---
Dec 03 | 2020
(Americas) Emergence as Wind Cargo Hub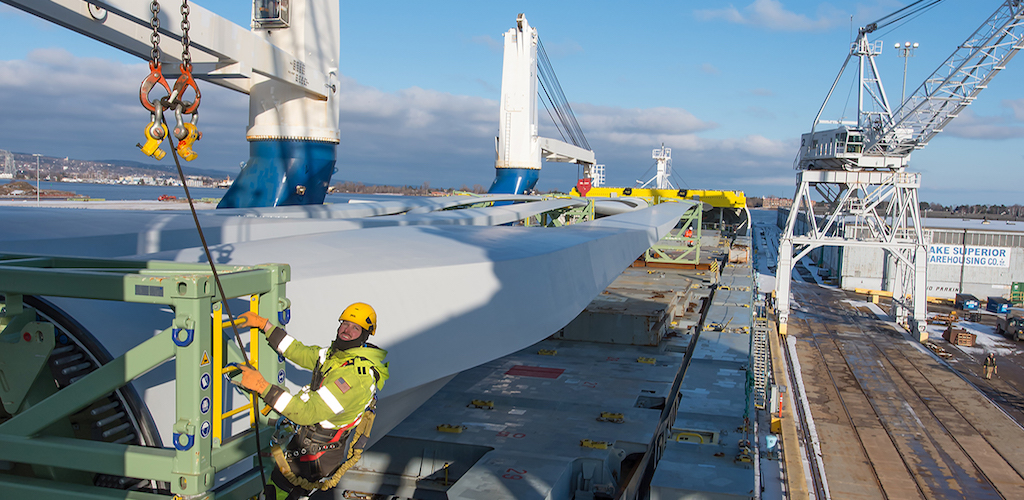 Authorities at the Port of Duluth have reported a record volume of wind energy cargo throughput in 2020.
The port has handled an estimated 525,000 freight tons of wind energy cargo in 2020, eclipsing the previous high of 306,000 freight tons set in 2019. The final inbound wind energy cargo vessel of the year discharged wind turbine blades at Duluth's Clure Public Marine Terminal last week
"It's been a difficult year under the cloud of a global pandemic, but this freight tonnage record is a much-appreciated highlight, made even better by the fact that Duluth Cargo Connect set records in consecutive seasons. Looking beyond the numbers, this port's emergence as a wind cargo hub is an important win for cargo diversity and also for the expansion of renewable energy nationwide," said Deb DeLuca, executive director of the Duluth Seaway Port Authority.
The Port of Duluth-Superior handles the highest tonnage of any port on the Great Lakes, and operates as a multimodal hub for the Great Lakes St. Lawrence Seaway system.
---
Subscribe to BreakbulkONE and receive more industry stories and updates around impact of COVID-19.