---
Jan 22 | 2021
(Global) Wind Energy Demand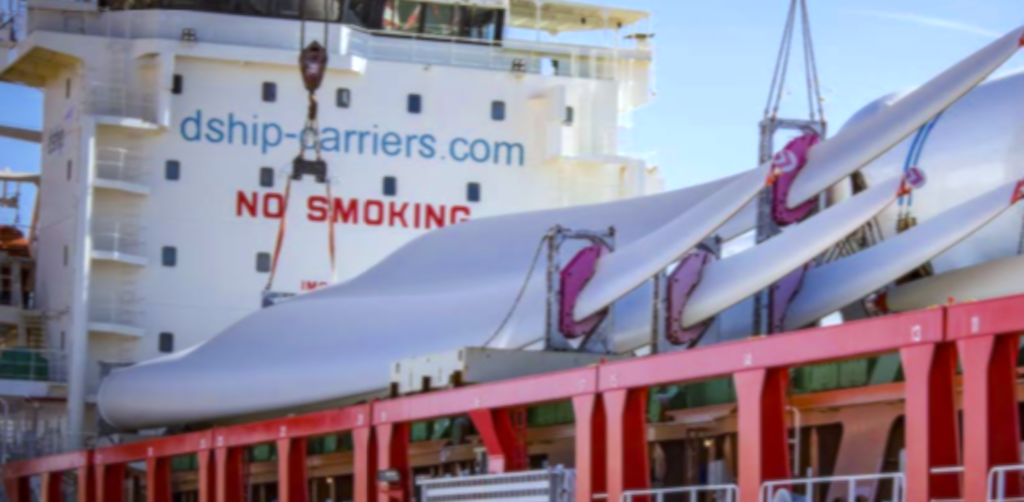 The breakbulk sector is poised for "significant growth" in 2021 as upward pressure on freight rates and a resurgent wind energy sector propel demand, according to heavy-lift shipping line dship Carriers.
The group predicts that rising prices for container shipments will affect the multipurpose market going forward and lead to an increase in utilization. However the firm cautions that much volatility still lies ahead.
"Looking at the market conditions, we see – besides lots of uncertainties – a rising demand in tonnage, especially in renewable projects such as wind. However, the current market challenges require us to be as flexible as possible with our 2021 planning," said Lars Feller, global vice president of dship Carriers.
Greater Flexibility
The recent inauguration of Joe Biden as U.S. president and momentum in vaccination programs in many countries were hailed as positive for the breakbulk sector, especially as renewed energy demand helps buttress prices and support investment in new projects.
"In my personal opinion, we will see a lot of movements in the market as a result of the U.S. elections and of Covid-19 vaccinations becoming more broadly accessible. With a barrel price currently hovering at around US$50, we could achieve a peak in barrel pricing in 2021, caused by an increase in travel demand, as well as the potential shift in energy production," said Mario Hess, vice president oil and gas global operations at deugro.
The firm notes that achievable charter rates "appear to be attractive," and demand could reduce the availability of space going forward.
"The year 2021 will be an interesting one for dship as well as the whole shipping industry. First, we are looking forward to the delivery of our new fleet members
Ronnie
and
Charlie
. With these two F-500 vessel types in service, we are strengthening our position in the multipurpose heavy-lift market, allowing us to be even more flexible with stowage options for complex requirements," Feller added.
Renewable Investment
Alongside a return of demand from oil and gas projects, the firm foresees significant potential in the wind sector as investor appetite for renewable projects grows.
"The dimensions and weights of windmill blades, towers and nacelles have grown significantly over the last few years, and therefore not every MPV ship is now suitable for loading such parts. This cargo should therefore tie up more capacity on the larger ships … reduce free capacity in the market … and, consequently, rates could increase," the firm states in its
Q1 Market Report.
Headquartered in Hamburg, dship Carriers is part of the family-owned deugro group. The firm operates a fleet of multipurpose vessels, designed to support the specialized needs of breakbulk, heavy-lift, dry bulk, and project cargo clients.
"The emerging trade imbalances of shipping volumes challenges us in terms of obtaining return cargo. Unpredictable factors like the pandemic, the recovery of the global economy and developments in specific industries such as oil and gas are still to be faced," Feller concluded.
---
Subscribe to BreakbulkONE and receive more industry stories and updates around impact of COVID-19.