---
Jun 23 | 2021
Plans for World's First Cognitive City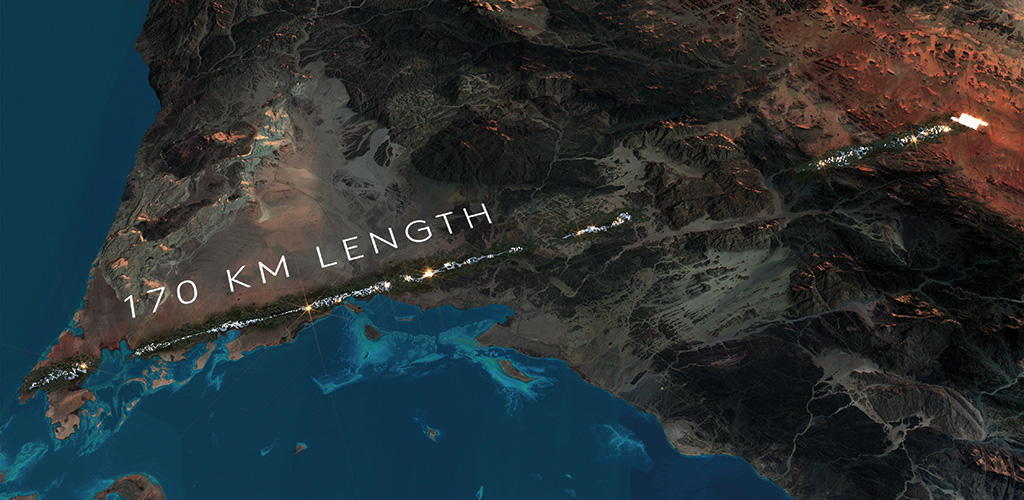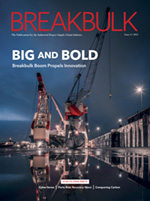 By Simon West
It sounds like the stuff of fantasy. A city built from scratch in the desert, with no cars or roads, powered only by green energy and run on artificial intelligence.
This is The Line, Saudi Arabia's proposed 170-kilometer linear metropolis that its developers are calling one of the most complex and challenging infrastructure projects in the world.
Stretching from the Red Sea Coast up through the mountains and upper valleys of northwest Tabuk Province, The Line, dubbed the world's first cognitive city, could be home to more than 1 million residents by the end of the decade.
Here, cars are consigned to the dustbin of history, replaced by an ultra-high-speed underground public transit system that will propel you from one end to the other in 20 minutes.
Climate-busting fossil fuels will be swapped for solar, wind and hydrogen-based generation, while businesses and communities will be "hyper-connected" through a digital framework incorporating AI technology and robotics.
A press release announcing its launch in January said the project was a "revolution in urban living," and would address urban challenges such as legacy infrastructure, pollution, traffic and human congestion.
"The Line is the first time in 150 years that a major urban development has been designed around people, not roads," the release said. "Walkability will define life on The Line. All essential daily services, such as schools, medical clinics, leisure facilities, as well as green spaces, will be within a five-minute walk."
The Line is the first major building project at NEOM, a 26,500-square-kilometer high-tech business and logistics zone and a key component of Crown Prince Mohammed bin Salman's Vision 2030 masterplan to pivot the Saudi economy away from oil and natural gas towards more sustainable, private sector-driven industries.
Once built, the US$500 billion-dollar zone will house port facilities, solar parks, desalination plants, sports stadiums and tourist resorts. The project is being financed by local and international investors as well as Saudi Arabia's Public Investment Fund, or PIF, one of the largest sovereign wealth funds in the world.
Najah Al-Otaibi, a London-based Saudi political analyst, said The Line and other infrastructure projects at NEOM are driven in part by a national necessity to tackle joblessness, which currently stands at more than 12 percent.
"Unemployment is high among youth, and Saudi Arabia is serious about progressing in these projects," Al-Otaibi said. "It is a genuine effort that is being added to all other efforts already taken by the Kingdom to diversify the economy away from oil."
Information so far about The Line has been limited to a website and a press release, with details on building requirements and timeframes still undisclosed. NEOM's management team declined to be interviewed.
A video posted on the project's official YouTube channel said the city would be built on three levels: an overground "pedestrian" layer consisting of paths and green spaces, an underground "service" layer of infrastructure and utilities, and below that, a "spine" containing an AI-controlled transport system.
According to the press release, construction of The Line was slated to begin in this year's first quarter.
Infrastructure costs are expected to reach between US$100 billion and US$200 billion; in return, the project would create some 380,000 jobs and add US$48 billion to Saudi's gross domestic product by 2030.
Breakbulk Excitement
Despite the lack of data, the city is raising the prospect of some major breakbulk activity in the region.
An executive at Saudi Arabia's King Abdullah Port said once work was underway, the project would have a major impact on the supply of building materials and other goods and equipment. "We will soon witness increasing cargo volumes," said the executive, who asked to remain anonymous.
King Abdullah Port, a private terminal on the Red Sea coast about 900 kilometers south of NEOM, is one of the Kingdom's largest handlers of breakbulk and project cargo. Full operations at the facility began in 2014.
"We are situated along a straight uninterrupted highway to the northern regions of Saudi Arabia to cater to the supply needs of the new city," the executive said. "The possibilities that The Line promises to offer are inspiring, and we are fully equipped to seize new growth opportunities."
Another Saudi-based project cargo executive, who asked not to be named, said he expected early-stage building materials to be sourced locally. Developing local manufacturing industries and production capacities is a central plank of the Kingdom's plans to diversify its economy.
"They are focusing on stuff made in Saudi Arabia, like the steel and all those products. When the time comes and when they require some things to be brought from outside, maybe some hyperloops or some rails, then there will be some potential opportunities," said the executive.
"At the moment it is at the very preliminary stage. There are a lot of projects also running like tourism projects and sea resorts, so maybe the focus is on something else at the moment. But sooner or later they will put the focus on The Line and then things will start moving."
Outside Investment Challenge
The government's ability to lure foreign investment and know-how will be crucial in getting the project built, said Steffen Hertog, associate professor of comparative politics at the London School of Economics and an expert on the Gulf's political economy.
As part of its Vision 2030 plans, the Kingdom is intent on boosting its competitiveness and becoming the preferred regional base for international operators, overtaking Dubai as the main hub in the Gulf Cooperation Council, or GCC.
The government has taken steps to cut red tape and cultivate a more pro-business environment, although operators still have to contend with Nitaqat, a system that grades firms according to the number of Saudis on their payroll. Those that meet targets get preferential treatment; those that do not face obstacles when opening new branch facilities, securing pre-qualification for government contracts or obtaining visas for foreign staff.
"It is likely that the Saudi government will be able to convince local investors to tie down some capital in the PIF's megaprojects as it has a lot of influence vis-a-vis the national merchant class," Hertog said.
"It will be harder to attract foreign capital given the limited information about The Line and the Kingdom's limited track record with megaprojects outside of heavy industry. Finding first movers while the project has not achieved critical scale, or 'proof of concept' will be particularly hard."
Question marks remain over The Line's feasibility, with much of the proposed technology, such as hyperloops, a transport system carrying people and cargo at high speed in special pods through low-pressure tubes, still in development stage.
Similar plans to build megacities from scratch in Saudi Arabia have failed to attract investors and residents.
In 2005, former King Abdullah bin Abdulaziz Al Saud unveiled a multibillion-dollar project to build six metropolises throughout the Kingdom, but just one of those ever got off the ground – the US$27 billion King Abdullah Economic City on the Red Sea Coast.
Pandemic delays
Development of infrastructure projects in Saudi Arabia have also faced delays because of the twin shock of the Covid-19 crisis and the drop in the price of crude, which accounts for about 80 percent of government revenues.
"Saudi Arabia is part of this world and unfortunately the pandemic paralyzed everything," Al-Otaibi said. "But that does not mean these projects will be affected in the longer term. Saudi has a strong economy and has survived lots of economic crises over the years. There is a political will that will make these projects proceed."
Elsewhere in NEOM, with authorities targeting first-stage completion by 2025, contracts are already being signed.
Energy specialists Air Products and Saudi ACWA Power signed a deal with developers to build a US$5 billion green hydrogen production facility at the site, a project that will integrate some 4 gigawatts, or GW, of wind and solar power to produce 650 tonnes per day of hydrogen and 1.2 million tonnes per year of ammonia.
Hydrogen for industrial use is mostly derived from fossil fuels such as natural gas and coal, whereas green hydrogen is produced from electrolysis powered by renewable electricity.
Saudi Arabia's eye on becoming one of the world's heavyweight green hydrogen producers could eventually see pipelines being built to ship the fuel to Europe, Energy Minister Prince Abdul Aziz bin Salman told delegates at a virtual energy conference earlier this year.
U.S. engineering firm Bechtel meanwhile last year secured a contract for executive project management work on the development of primary base infrastructure in NEOM, although it was unclear if the deal was for engineering works for The Line.
"There are a lot of things happening, everyone is excited," said the Saudi-based project cargo executive.
Colombia-based Simon West is a freelance journalist specializing in energy and biofuels news and market movements in the Americas.

Image credit: NEOM