---
Apr 30 | 2021
Breakbulk Sector Weighs in on Consequences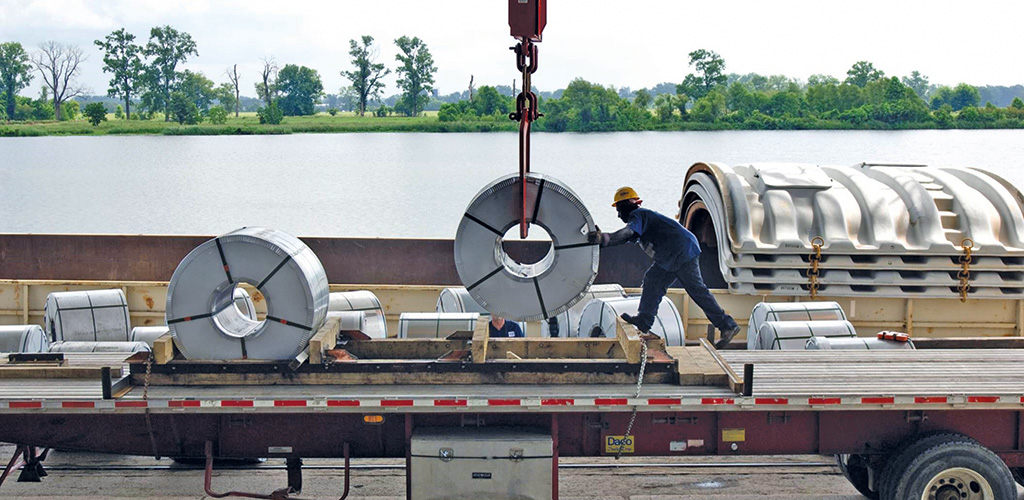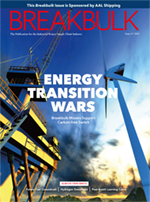 By Paul Scott Abbott
Despite rising pressure from a broad spectrum of U.S. manufacturers, the Biden administration appears to be in no hurry to lift hefty tariffs on steel and aluminum imported into the U.S.
Those who oppose the duties contend keeping the tariffs in place will cause continuing harm, including further fracturing of global trade relationships and weakening of U.S. exports, while proponents see the tariffs as a stabilizing force for the U.S. domestic steel industry.
Early indications since President Joe Biden assumed the highest American office from Donald Trump on Jan. 20 suggest retention of the contentious tariffs, even as bipartisan legislation seeks removal of the duties, which were introduced by the Trump administration in 2018 under the guise of protection of national security.
The tariffs, imposed by Trump under Section 232 of the Trade Expansion Act of 1962, place a 25 percent duty on steel and a 10 percent duty on aluminum imported into the U.S. from the vast majority of countries, with Argentina, Brazil and South Korea agreeing to quotas instead of tariffs. Tariffs on imports from Canada and Mexico were dropped mid 2019.
Tariffs 'Effective'
On just her second day since taking office, U.S. Commerce Secretary Gina Raimondo said March 4 that data shows the tariffs "have been effective," adding that the Biden administration intends to hold China – which accounts for more than half of the world's crude steel production – accountable for anticompetitive behavior and "horrific" human rights violations.
And, in one of his first trade-related actions since his January inauguration, Biden indicated his support for tariffs imposed by his predecessor as, on Feb. 2, he reinstated duties on aluminum imports from the United Arab Emirates that President Donald Trump had actually removed on his penultimate day in office. Biden said the move was "necessary and appropriate in light of our national security interests."
From a legal standpoint, in one of the latest of a series of challenges, a Feb. 4 ruling by the U.S. Court of International Trade on a suit brought by Universal Steel Products and other U.S. importers of foreign steel determined the tariffs to be legally enacted under national security grounds.
On March 15, U.S. Sen. Rob Portman, R-Ohio, led a bipartisan group of seven senators in introducing the Trade Security Act, aiming to reform Section 232 to require the U.S. Department of Defense to justify the national security basis for tariffs and step up congressional oversight of the process.
"We must hold countries that violate our trade laws accountable, but we must do so in a way that protects American jobs and strengthens the U.S. economy," said Portman, who served as U.S. trade representative from 2005 to 2006 under President George W. Bush. "As a former U.S. trade representative, I know that misusing our trade tools not only hurts our exports and our manufacturers, but also our consumers, so I urge my colleagues to support this bipartisan legislation."
Schism is Broad
Thoughts shared with Breakbulk by those on both sides of the issue unmistakably demonstrate just how broad the schism is between tariff opponents and proponents.
At the forefront are two lobbying groups. On one hand, the American Metals Supply Chain Institute, or AMSCI, representing steel-consuming companies, sees the tariffs as hurting American businesses, consumers and ports. On the other hand, the American Iron and Steel Institute, or AISI, representing the American steel industry, staunchly supports keeping the tariffs in place.
"The tariffs on steel and aluminum cost many times more American jobs than they save," said Richard Chriss, president and international trade counsel of AMSCI. "Government can always help a politically connected few at the expense of the many, and that's what has happened here. A few winners did very well, but the tariffs created a huge set of losers, adversely affecting the entire steel supply chain and the broader American economy."
Chriss termed the tariffs "simply an exercise in unnecessary corporate welfare," arguing U.S. steel producers were largely profitable before the tariffs went into effect. He said the American steel-producing industry added about 1,000 jobs at a cost of about US$1 million per job, while, according to the Federal Reserve Board of Governors, increased input costs due to tariffs are linked to a loss of 75,000 U.S. manufacturing jobs. Higher input costs also mean higher consumer prices for a wide range of goods.
"Some of our manufacturers lost overseas customers permanently as a consequence of the steel and aluminum tariffs," Chriss said. "Our ports saw declines in shipping volumes. Dockworkers took pay cuts as hours were reduced."
US$7.8 Billion Loss
The tariffs also are a drag on overall U.S. economic growth, according to Chriss, who cited a National Bureau of Economic Research study pegging the nation's net economic loss associated with the duties at US$7.8 billion.
"Moreover," Chriss said, "the tariffs have had zero effect on reducing Chinese overcapacity in steel, the single greatest trade-distorting factor in global steel markets, and a de minimis effect on Chinese imports to the United States, which were already subject to 28 dumping duties."
In fact, Chinese crude steel production rose in 2019, the last full year for which the World Steel Association has published data. China's 2019 production of more than 996.3 million tonnes was up 7.3 percent from its 2018 output, and represented more than 53 percent of the total world production of 1.875 billion tonnes.
The 2019 data shows No. 2 India's production at nearly 111.4 million tonnes, up 4.6 percent from the preceding year; No. 3 Japan at 99.2 million tonnes, down 4.8 percent; and fourth-ranked U.S. at 87.8 million tonnes, up 1.2 percent.
Bhaskar Chatterjee, secretary general of the New Delhi-based Indian Steel Association, told
Breakbulk
that his nation has "enormous export potential" to the U.S., but has been severely limited due to dozens of U.S. trade measures, some of which have been in force for more than two decades, well before the Section 232 tariffs began in 2018.
Chatterjee called for revocation of the tariffs and other trade measures, saying such actions should lead to greater demand for ocean freight movement.
Farmers Targeted
Meanwhile, the wide-ranging impacts of the steel and aluminum tariffs extend to American farmers as well, Chriss said, noting that farmers have been targeted for trade retaliation, losing lucrative export markets. Federal subsidies to farmers as a compensatory effort have resulted in US$28 billion in U.S. debt, with American taxpayers on the hook, he said.
"When a policy is not working, and doing more harm than good, it's time to reassess," Chriss said. "That's why we feel it is important to terminate these unnecessary tariffs."
Removal of the tariffs, Chriss said, should bring about gradual return of lost manufacturing, agricultural and maritime jobs while reinstating reliance upon traditional trade policy protections of antidumping and countervailing duty laws.
"If the tariffs remain in place, one continuing harm I would expect to see that will affect the entire supply chain is a weakening of U.S. exports," he said, citing a 2019 study by economists at the U.S. Federal Reserve System, the University of Michigan and the U.S. Census Bureau showing 84 percent of total U.S. exports were by firms facing at least one import tariff increase.
"That's not surprising, since, according to the 2019 study, 57 percent of the items on the administration's tariff lists, by value, are intermediate goods," Chriss said. "These are goods that American companies use as inputs to make products which are then sold overseas. Fewer exports mean reduced jobs and economic activity throughout the steel and manufacturing supply chains. These aren't just numbers, there is a real human cost attached to this. Just ask the men and women who load and offload ships at our major ports."
Market 'in Chaos'
The anti-tariff stance is also taken by the Coalition of American Metal Manufacturers and Users, or CAMMU, of which the AMSCI is among several members, ranging from Associated Builders and Contractors to the National Tooling & Manufacturing Association and the North American Association of Food Equipment Manufacturers, representing a total of more than 30,000 U.S. companies.
CAMMU Executive Director Paul Nathanson said U.S. manufacturers are experiencing severe supply shortages, growing lead times and prices that are spiking to record levels.
Tariffs, he said, lead a list of challenges that also include shipping container shortages for imported steel, Covid-19-related shutdowns, the exit from complete lines of product by some U.S. mills, and adjustments to furnace uptime and downtime by U.S. mills.
"Let's be very clear: The steel and aluminum market is currently in chaos," Nathanson told Breakbulk. "While the Biden administration can only play a limited role in resolving many of these issues, it can terminate the tariffs immediately with one stroke of the pen. Terminating the tariffs would significantly help alleviate supply problems by creating more competition in the steel supply market."
In that sense, according to Nathanson, by allowing U.S. manufacturers to obtain the steel and aluminum they need in a timely manner and at more competitive prices, termination of the tariffs is in line with the Biden administration's "Build Back Better" initiative to boost U.S. manufacturing, which must rely upon imports to augment still-limited domestic steelmaking capacity.
"If the tariffs are not terminated, steel and aluminum supply problems will grow and U.S. manufacturers will lose business to their overseas competitors," Nathanson said. "This will lead U.S. steel- and aluminum-using manufacturers to shut down production lines and lay off workers and could result in some manufacturers potentially even closing their doors."
Nathanson decried the tariffs as "a self-defeating policy," as the hurt for U.S. manufacturers translates to their needing less steel, including from domestic producers.
"The root cause of global oversupply in steel and aluminum is excess capacity in China," Nathanson said. "The Biden administration has stated that it wants to coordinate with allies to confront China about their policies that cause oversupply. This won't be possible if the tariffs remain in place. The European Union and other trading partners have made it clear that they will not join in such a coalition as long as their steel and aluminum exports to the U.S. are subject to these tariffs."
Tariffs 'Stabilize'
On the pro-tariff side of the debate, the AISI takes the position that the American steel industry, which supports nearly 2 million U.S. jobs, is vital to national and economic security, with its viability having been threatened by repeated surges in unfairly traded imports.
"The steel tariffs and quotas have worked to stabilize the domestic steel industry," said Kevin Dempsey, AISI's president and CEO. "As a result of these measures, imports were reduced, domestic capacity utilization improved, many previously idled mills were able to restart and rehire laid-off workers and the industry began investing billions of dollars in new and upgraded mills."
Dempsey said the Covid-19 pandemic led to a significant drop in worldwide demand for steel in the first half of 2020, resulting in further global overcapacity – to an estimated 700 million tonnes or eight times the total output of the U.S. industry – and threatening a new import surge from China and other countries if tariffs are lifted.
"The steel tariffs should not be removed or weakened until major steel-producing countries eliminate their overcapacity and end the subsidies and other trade-distorting policies that create this excess capacity," Dempsey said. "Removing the tariffs now in the face of growing global overcapacity would only invite a new surge in imports with devastating effects to domestic steel producers, their workers and, ultimately, their customers and the nation as a whole."
A professional journalist for more than 50 years, U.S.-based Paul Scott Abbott has focused on transportation topics since the late 1980s.

Image credit: Port of Caddo-Bossier