---
Nov 02 | 2020
Covid-19 Choke Points Force Gear Shift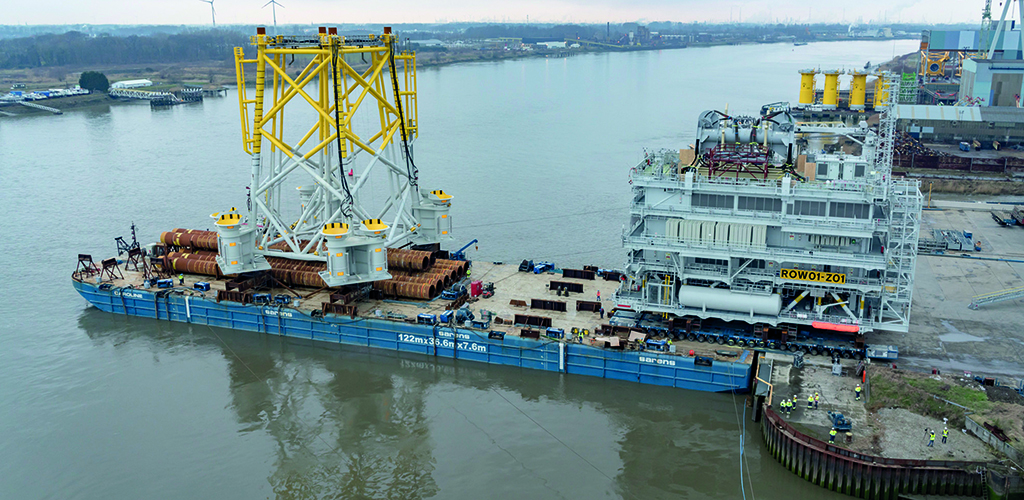 By Namrata Nadkarni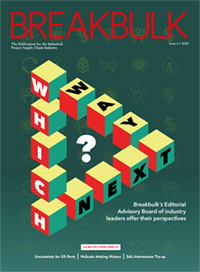 The past six months have seen a radically changed landscape for the heavy-lift and project cargo industry. The Covid-19 pandemic created bottlenecks not only in terms of equipment and supplies but also with employees. Factories and worksites shut down around the globe as countries closed their borders to any aspect of trade that required human-to-human contact, creating shortages of supplies and bringing many projects to a standstill.
While steps were taken to largely address the health and safety requirements to keep businesses functioning, these required companies to be flexible and think outside the box as many of the contingency measures that would ordinarily have been put in place were not applicable to this particular scenario.
"During the first months of the pandemic, mainly as a consequence of the stoppage of the activity of certain suppliers due to the confinement of their personnel, there were delays in some scheduled supplies," recalls Paula Lacruz Rodriguez, of Spanish civil engineering company Ferrovial. "In specific cases, there were also delays due to problems with transport companies and customs clearance. Additionally, there were also problems with subcontractors, again due to workers' confinement and positive cases of Covid-19."
Although the situation has improved, the company has adapted its operations policies to increase the delivery times allotted to the supply of critical items, and has also sourced alternative suppliers for many of its materials. This strategy is likely to pay off in coming months, as many countries report second waves of the virus.
Lingering Impact
The hiccups in sourcing and transporting materials have varied from country to country and across industries – and in some cases, engineering, procurement and construction companies have reported that clients have made the decision to hold off on their projects.
"We are noticing that a significant number of projects are being postponed and a small percentage cancelled," Kleopatra Kyrimi, group marketing and communications manager for heavy-lift and engineering transport firm Sarens' Spanish arm, told
Breakbulk.
She added that Sarens experienced a slowdown in many of the regions that it operates in, but these were largely related to putting safety measures in place to manage Covid-19 and were resolved reasonably quickly. "Construction work did not stop completely in any of the countries we operate in," Kyrimi said, pointing out that the company adopted a diversification approach to insulate it from the worst of the economic effects of the pandemic.
"For us, diversification of the business is key, offering us alternatives when we encounter slowdowns in certain sectors of our work," she said. The company also implemented stringent safety measures to manage its risk and took steps to reduce its exposure to factors such as slowdowns and supply bottlenecks.
Perhaps the biggest impact of the Covid-19 pandemic is the vulnerabilities it has exposed in the supply chain, which continues to fluctuate in response to a large number of factors including local outbreaks of the virus, statuses of borders, access to supplies, market sentiment and more.
"Everyone has pressed the pause button while they are waiting to see how this pans out," said Richard Jones, global sales manager at project freight forwarder Bertling Logistics. Jones said the real concern was rate fluctuation for transport, rather than personnel capacity.
"Some people are saying that the rates will go through the roof and others are saying that they are about to crash. We may see that prices have jumped up US$500 overnight, or that a service we have been using suddenly no longer exists. You can't make guarantees to clients like you used to be able to make as all availability is subject to Covid-19 and quarantine," he said.
Jones believes that the new operating environment also presents opportunities for those companies that have the ability to adapt to change quickly, not just to the challenges of the pandemic, but also to meet client needs, which may evolve as the current situation continues.
"To survive this we need to be collaborative," he said. "Customers are going to want to work with forwarders that are able to come up with solutions, so it will not be about the cheapest price. Rather, the market will be relationship and trust driven."
The uncertainty, combined with a change in the global sentiment towards a more nationalistic outlook, will reshape global trade, the supply chain and sustainability in the coming years," he added, particularly in the UK, where the impact of the pandemic will intersect with Brexit to create new challenges for freight forwarders.
Infrastructure Outlook
However, Jones' long-term outlook for the project cargo and EPC sectors remains positive. "The global prospects are good as we transition to a carbon-free economy and invest in infrastructure and IT, digitalization and process efficiency," he said, adding that the pandemic has revealed areas in the supply chain that will need urgent investment and may see government and private sector investment in the near future.
Jones' view is echoed by Sarens' Kyrimi, who said that the very nature of critical infrastructure work allows engineering companies to be relatively insulated from economic recessions.
"Despite the crisis, city infrastructures, sustainable energy projects, and other work will still be priorities in the 2020-2021 market, as they involve structures and goods that are still necessary for society to function even if lockdowns are necessary," Kyrimi said. "We have observed, in fact, that certain city projects during the lockdowns progressed, taking advantage of the reduced circulation that allowed for faster and more comfortable executions.
"Mega projects in the nuclear sector and other wind projects, for instance, did not stop as they are considered matters of respective national importance, and stopping them would make no sense as that would generate financial penalties for the clients that would throw the projects off budget."
Breakbulk ports also continued with "business as usual." The port of Ipswich, which is managed by Associated British Ports, has seen consistent cargo throughput of various agricultural and infrastructure materials, welcoming 115 vessels carrying 400,000 tonnes of cargo in the first three months since the start of the first UK lockdown on March 23, 2020. It also successfully completed a heavy-lift operation involving a 178-tonne transformer, as part of a National Grid infrastructure project, in early June.
Rocky Global Recovery
Although critical infrastructure projects continue apace and carriers are still securing work, the wider project cargo industry is unlikely to see a quick return to pre-pandemic operating levels. "Our fleet is fully employed, albeit at reduced freight rates," explained Valentin Gherciu, global operations manager at AAL Shipping, observing that the business and public upheaval caused by the pandemic has resulted in a sharp decline in appetite for investment and project greenlighting.
"The triage of services we currently provide of tailor-made tramp solutions, scheduled liner and semi-liner services offer the market choice and seamless connectivity worldwide. The issue that we face as a carrier is that no two regions are responding the same way to current market challenges, and their trading patterns and cargo flows are subject to change at any time.
"As forecast, production and international cargo movements have declined rapidly since the start of the outbreak," Gherciu continued. "Initially, the slowdown of imports and exports took hold in China, then Korea and Japan – in all cases resulting in the forced reduction of shipments, delayed project cargo readiness and in many cases cargo bookings cancellations. Within the carrier sector too, there is no appetite for immediate fleet expansion and [there are] vessel charterers with distressed ships sitting idle worldwide and unemployed."
He saw the rapid virus contagion worldwide as impacting major long-haul trade lanes and causing a "geo-shifting" affect. While China is slowly recovering, cargo demand has dropped from trading partners in Oceania, Middle East, Europe and the U.S.
Gherciu said that the past few months have exposed weaknesses in the supply chain ranging from freezing of receivables from Chinese accounts to severe liquidity issues around the globe. "Nevertheless, AAL's long-term focus on 'key accounts' comprising majors in every industry sector – whose payment terms are set and stable – has mitigated our negative exposure," he said.
Gherciu is a strong advocate for the creation and use of fiscal policy instruments to spur the economy into recovery. "The most important measure that can be implemented at this time within any market is fiscal government support for corporate business and capital injection into economies. This is necessary to stimulate trade and cargo movement," he said, adding that the maritime sector in particular will require this support to maintain trade levels and prevent companies from collapsing under financial duress.
"More than at any other time in our history, we need to stay alert and flexible and focus on those trade lanes and services model structures that allow us to mitigate risk and, at the same time, provide the range of added value services that our customers need," Gherciu concluded.
Namrata Nadkarni is a London-based freelance journalist with 17 years of experience covering maritime, offshore, ports and the logistics sector.
Image Credit: Sarens notes that a significant number of projects have been postponed and a small percentage cancelled. CREDIT: Sarens