---
May 31 | 2020
Positive Messages from the Boardroom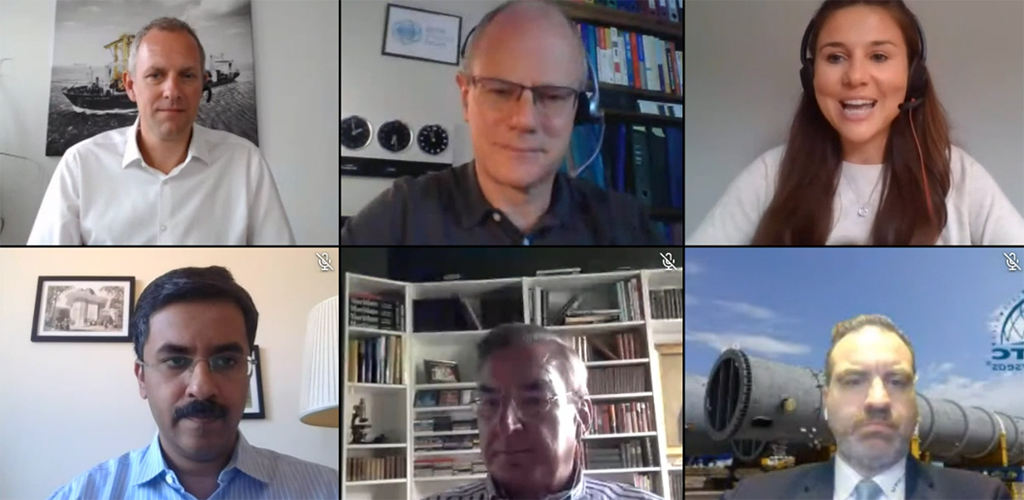 By Gary Burrows
With a steady torrent of doom and gloom during the Covid-19 pandemic, several executives gathered digitally from home offices for a Breakbulk webinar in search of silver linings for the industry.
In a "View from the Boardroom: What Lies Ahead," on May 28, the participants have looked at the positive changes that have come from dealing with the pandemic, while thinking about how business will change and develop once the world begins to come out from under the incessant onslaught, which dovetailed with crashing oil prices and global trade unrest before the start of the year.
One important step is the supply chain and shipping services becoming recognized as essential operations, executives agreed.
"Over the last few months the supply chain and logistics, two pretty extremely underappreciated streams where all of us belong, have suddenly been thrust into the limelight along with medical professionals and the front-end fight against Covid-19," said Cyril Varghese, global logistics director – strategy and commercial, Fluor.
"I think one of the good takeaways from this crisis – as few as there are – was governments have come to realize just how supply chain logistics is to the proper functioning of their economies and their societies," agreed James Hookham, secretary general, Global Shippers Forum. His organization of national shipper associations reached out to governments to ensure they "received essential status for workers, to get critical infrastructure protected and to allow it to continue functioning and to get some obvious remedies to cash flow addressed, such as the deferment of customs duties."
For an industry that, with Breakbulk events and extensive travel, has developed quite fraternally, the response to the pandemic has brought deeper unity, the executives agreed.
"I've been having multiple conversations with industry colleagues ever since the travel restrictions started kicking in, and I've found it absolutely insightful and enjoyable to have these virtual meetings," Varghese said. As an industry I believe we've adapted and will continue to find workarounds for activities that we're constrained to do now and in the future."
Those conversations include frank discussions among freight forwarders, ship owners and heavy-haulers about preservation of cash, and protection of balance sheets, Varghese said. Project owners and oil companies have announced capital expenditure reductions of from 20 percent to 40 percent.
"There is genuine concern in the industry about certain FIDs (final investment decisions) either moving toward the right or the owners not making a decision about when FID can be expected," Varghese said. I guess overall these concerns are legitimate, because the deferment of FIDs will certainly have an impact on our industry in terms of what cargoes are out there for the market to perform."
Bright Spots
However, Varghese also said there are positive signs in the market when you look closely.
"Some of the freight forwarders when they speak to me they talk about the positive aspects of the business, the new insight which they've received working from home, how they're supporting governments and hospitals fight the pandemic, finding new solutions to minimize supply chain disruptions, there are shipping lines taking delivery of new more fuel-efficient ships, heavy haulers are getting ready to expand into new territories on the back of order books," he said.
There have been a number of projects and expansions announced in recent weeks, and he listed several:
• Shell and Petro China going forward with the US$6.3 billion Australian gas project in Queensland.
• Commitments to heavy haulers on Arctic LNG.
• The Federal Energy Regulatory Commission authorized Alaskan Gasline Development Corp.'s US$43 billion Alaska LNG project.
• Shell announced FID for Train 7 of Nigeria LNG (US$4 billion).
• Exxon broke ground for a US$10 billion petrochemical project in Guangzhou.
• Total announced they intend to continue their Mozambique LNG plant. They also announced US$15 billion of financing, of which about US$4.3 billion came from the U.S. Export-Import Bank.
• Despite Qatar Petroleum announcing a 30 percent reduction in capex, it is still continuing with its North Field LNG Expansion Project.
• On the mining side, he noted some commodities are improving in value, which should boost confidence in capital investment, including iron ore, gold and copper.
• Renewables continue to show a positive outlook, as well of development in hydrogen energy and carbon capture and storage projects in Norway and the U.S.
Marco Poisler, COO – global energy and capital projects for UTC Overseas Inc., said government spending has been a positive development during the pandemic. "The OECD (Organization for Economic Cooperation and Development), which represents 37 countries and 67 percent of the world GDP, is expected to be pumping in this year US$17 trillion. We hope, that once the vaccine is around, that that money will eventually move some cargo. Something else to watch is some of this green stimulus, renewables. How much go to hydrogen plants and set asides, and even here in the U.S. they're talking about allocating that. So that's something in terms of following government money is really critical."
Digitization, Evolution
Speakers touched on several areas in which the industry will evolve and develop following the pandemic, and perhaps the most noted was the push to digitization, which accelerated during the switch to home officing.
"There's a push for digitalization, and I think it's a very logical one," Varghese said. "What can we do during this period to make these supply chains leaner and more agile, it would be upon us to make sure we do so.
Hookham echoed Varghese's point separately. "This crisis presents is a real chance to go back into your supply chains and your processes and start to take costs out and digitization of all that paperwork is a great place to start. Physical exchange of paperwork is something we should be avoiding during the crisis anyway because of the risk of contamination. But in the longer term now is a great opportunity to really start tackling that digitization opportunity and removing costs from your supply chain."
There are issues that will return to more prominence since the pandemic's start, Hookham said, such as greenhouse gas emissions, enforcement of International Maritime Organization low-sulfur rules, and the global trade war, led by the U.S. and China.
"We can talk at length about how individual businesses have reacted to the situation. But I think the consensus among a lot of shippers is to look to the future. Factors will be vital in assessing the shape of future market, levels of demand, and the kinds of service that shippers will be looking for from logistics service providers once we are through this immediate crisis," he said.
Cargo owners will need to conduct "serious reviews of their sourcing policies, and some major exercises by the major buyers of goods and commodities around the world about derisking their whole supply chains," Hookham said. "We have already started to see attempts to resource stock away from China and away from suppliers that have been affected by tariffs and other trade sanctions.
For multipurpose carrier BBC Chartering, "cargo readiness" was a primary issue during the lockdown. "It started first in China, but then expanded to also India, South America, Europe and so on," said Ulrich Ulrichs, CEO of BBC Chartering. "There were also decision delays. A lot of our clients couldn't make any decisions, because they couldn't reach their partners, their customers or they were uncertain about the situation either at the loading port or at the destination of the cargo.
Travel restrictions held their obvious impacts. "A lot of our clients couldn't get their surveyors and their experts to the cargo, to the factory or ports to make sure the cargo is OK before it is loaded. So that also had created quite a few issues worldwide to make sure we had proper attendance."
Ulrichs also noted the broad issue of vessel crews stuck onboard ships during the pandemic, and unable to make it home. "But that's not a problem unique to BBC," he added.
Marathon, Not a Sprint
While isolating restrictions are reducing in some countries, and economies attempt to chug back to life, the timing of recovery will likely be measured more by calendar than a stopwatch.
"The key first understanding we need to have is that we're in for a marathon as far as the crisis is concerned. It will not be a sprint to recovery," Ulrichs said. We have to prepare for a long drain, a slow recovery. But I also believe that recovery will come eventually, that oil prices will also increase, that also investments will increase, that government spending will definitely increase. I do not believe that globalization will stop overnight. It will still be a global market and there will still be needs to transportation and shipping."
"I think a lot of cargo buyers, a lot of importers have found that they are vulnerable, they're exposed," Hookham said. "The geopolitical situation should have been enough to perhaps suggest some vulnerability and risk there. But as we've mentioned, we're not out of this crisis yet. And who's to say there won't be a Covid-20 or Covid 21? Never mind a Covid-19."
Still, an overriding message was, as an industry, breakbulk and project cargo colleagues stand together.
"It is good to be prepared, but I don't think we should be losing sleep over something you and I have no control over," Varghese said. "As an industry, the key would be support each other during the crisis, find time to talk to each other, to mentor each other and make sure to reach out to each other and find ways to share burdens of colleagues and do what we can within our ability to make the crisis less painful."