---
Feb 09 | 2021
(Americas) 31% Increase Despite Pandemic; Introduces New Terminals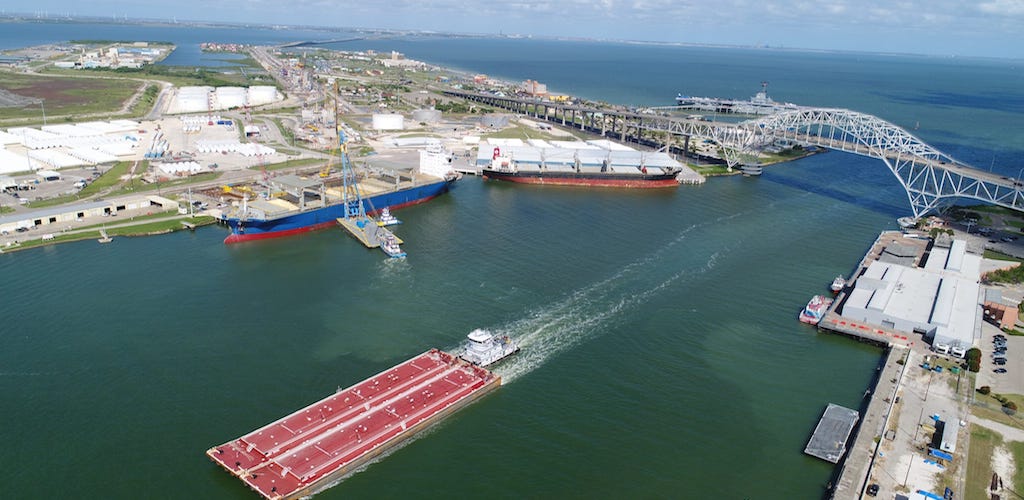 Authorities at the Port of Corpus Christi reported a record year for cargo volumes in 2020, despite widespread shutdowns impacting the breakbulk sector.
The port set a new annual tonnage record of 159.7 million tons for the year, representing a 31 percent increase compared to 2019.
"Despite the extraordinary challenges we navigated in 2020, the Port of Corpus Christi and its customers have yet again demonstrated the resiliency of this strategic gateway for American goods to reach the global demand centers. This record performance is a clear indication of the importance of our critical infrastructure for Texas and the nation," said Sean Strawbridge, CEO for the Port of Corpus Christi.
New Marine Terminals
The inauguration of several new marine terminals in 2020 helped to boost throughput with activity starting at EPIC Midstream, Buckeye's South Texas Gateway, Plains All-American and Enterprise Products' Eagle Ford Terminal joint venture, Pin Oak Corpus Christi, and South Texas Cement.
"I commend the port commission and staff for their dedication to serving our customers, and I congratulate our customers for their continued partnerships and investments in our port. American energy exports remain strong, and our ESG programs continue to lead the sector as we enter an era of economic recovery," Strawbridge added.
Energy Hub
Crude oil shipments were a key driver of activity at the port, with fuel volumes up 65 percent compared to 2019. For the full year, crude oil shipments totalled 96.4 million tons, while liquefied natural gas shipments increased 26 percent to 8.7 million tons.
"The port further solidified its position as the nation's leading energy export gateway with a record 1.9 million barrels per day of crude oil exports in December 2020," the port authority said in a statement.
Agricultural exports also increased 70 percent in 2020, benefiting from nearly US$55 billion in private industrial investment in the port over the past 5 years. Part of this investment has gone towards the Corpus Christi Ship Channel Improvement Project, which is scheduled for completion in late 2023 and will be the deepest and widest ship channel in the entire U.S. Gulf.
"The Port of Corpus Christi plays a vital role to not only the Coastal Bend economy, but that of the state of Texas and the nation. The success that the port has been able to realize in 2020, despite its challenges, is a direct result of everyone working toward a common goal – to ensure essential goods continue to flow during this difficult time and that economic recovery continues on an upward trend," said Charles W. Zahn, Port of Corpus Christi Commission chairman.
---
Subscribe to BreakbulkONE and receive more industry stories and updates around impact of COVID-19.