---
Mar 01 | 2021
(Global) An Excerpt from Breakbulk's Issue 2 Cover Story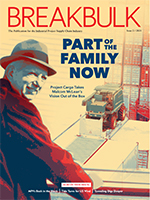 CMA CGM is continuing to refine its oversized cargo marketing offering, according to Stéphane Berninet, the line's project division head.
Berninet is one of several carrier executives who spoke about container lines' increasing levels of service provided to oversize and breakbulk shippers, as part of
Breakbulk's
Issue 2 Cover Story.
The CMA CGM Group started shipping project cargo decades ago through its various brands, Berninet said. "In early 2017, we gathered our numerous project cargo managers in charge of these different lines into one single dedicated project cargo division. We now offer our customers a comprehensive organization with project cargo managers, pricers, key account managers and project cargo engineers, as well as a tender desk to better cover the market and serve customers."
This dedicated division allows CMA CGM to streamline customer approach and share technical expertise and know-how within the team, Berninet said. "It also allows us to drive business development of project and special cargo by increasing market awareness of our service offerings and capabilities, and focus on delivering global solutions which meet our customers' projects' needs."
Project cargo is very important and an integrated part of the way in which Maersk is run, according to Kristian Lund Knudsen, head of special cargo solutions at Maersk.
"We have organized ourselves by verticals, in order to do our research and really focus on what the customers in certain markets need," he said. "We have seen that customers in the project cargo, or project logistics/special cargo, sector have similar needs – therefore we have organized this in the same way as our vertical for automotive customers, for example.
"We have been in the project cargo market for more than 25 years – since the 1990s we have been serving the oversized cargo market. So it is not a new development, but we have continued to refine our service."
Image: CMA CGM recently transported the monohull
Scallywag 100,
which is 35 meters long and nearly 6 meters wide. CREDIT: CMA CGM
Read more in Breakbulk Issue 2 / 2021, available March 17. Subscribe Now!
To advertise your company in future Breakbulk issues, Click Here!