---
Aug 14 | 2020
(Europe) Transport from Stewartby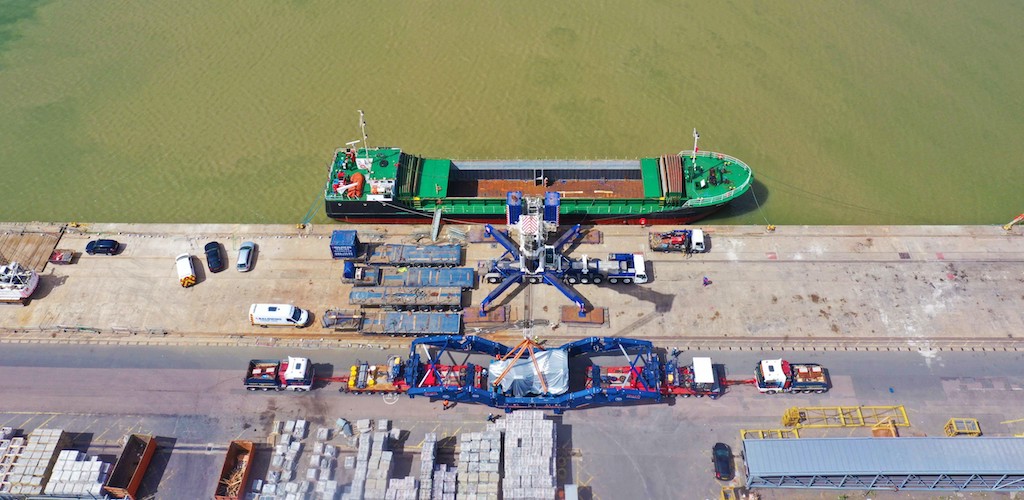 Haulage specialist Collett & Sons has transported a turbine and generator from the Port of Tilbury to the Rookery South Energy Recovery Facility in Stewartby, UK.
The breakbulk project involved loading the 160-tonne turbine and 120-tonne generator in collaboration with project partner Karl Gross. A team from Collett carried out pre-planning, using laser scanning technology, to prepare a suitable route that could accommodate the 4.8-meter-high turbine.
"All movements were facilitated by the Essex Police, ensuring prior warning and protection of all other road users, limiting the road-traffic congestion and ensuring extensive public safety. Upon delivery to the Rookery Site, the turbine and generator were removed from their respective trailers and underwent final installation," a spokesperson for Collett said.
Prior to delivery, Collett worked closely with the Port of Tilbury in planning the cargo discharge, including crane lift plans and an agreed program of works for all discharge operations.
The Rookery ERF is expected to become operational in 2022 and has the capacity to sustainably dispose 545,000 tonnes of residual waste. In turn, the facility will generate more than 60 megawatts low-carbon electricity annually.
Based in Halifax, England, Collett & Sons operates a fleet of heavy-lift trucks, trailers and SPMTs and provides breakbulk logistics throughout the UK and Europe. The firm is an exhibitor at Breakbulk Europe.
---
Subscribe to BreakbulkONE and receive more industry stories and updates around impact of COVID-19.