---
Jun 23 | 2021
55-meter Blades Delivered to Windy Rig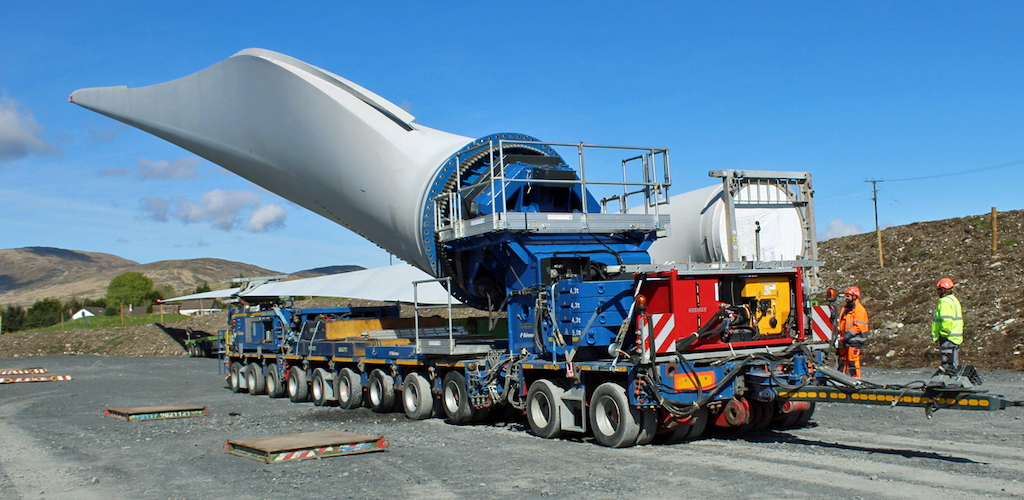 Haulier Collett & Sons has completed a heavy-lift first in the UK, utilizing a Blade Lifter vehicle to transport wind turbine components for the Windy Rig wind farm located in Dumfries & Galloway, Scotland.
The innovative solution allowed Collett to avoid the need for extensive civil engineering works, saving both time and cost expenses. The project was completed in partnership with heavy-lift specialist P. Adams Transport.
"A milestone in UK renewables as we use a Blade Lifter for the first time in the UK," a spokesperson for Collett & Sons said.
Delivery from Port of Ayr
The components were initially moved from Port of Ayr to a transition point, using the firm's Super Wing Carrier, which is designed to carry blades up to 70 meters in length. Collett transported the 55-meter-long blades at night to the transition point, located 18 kilometers from the main wind farm site.
Upon arrival, the blades were transferred to the Blade Lifter, which allowed the blade to be tilted in preparation for transfer to the site.
"Utilizing the Blade Lifter, the blade can be tilted to an angle of up to 60 degrees, avoiding the need for extensive civil engineering works," a Collett spokesperson said.
Planning Consent
The use of the Blade Lifter also enabled the team to accelerate planning consent for the windfarm, as it bypassed the need for third party land and the associated potential risks and costs.
"Due to the wind farms challenging site access, the use of the Blade Lifter reduced the amount of required 'oversail' by a combination of the tilting of the blade and the maneuverability of the self-propelled module," the project team explained.
The Windy Rig wind farm will consist of a dozen V112 wind turbines each featuring 55-meter blades when complete. The project is owned by Norwegian developer Statkraft.
Specialized Clamp Trailers
With the blades onsite, the remaining components will be delivered utilizing Collett's fleet of specialist trailers. Among the largest sections were the towers, which measured up to 30 meters in length and weighed as much as 55 tonnes. These were transported using specialised tower clamp trailers
"The heavier components such as the nacelle and drive trains weighing 64 tonnes and 61 tonnes, respectively, using multi-axel low-bed trailers. All component deliveries are underway and are expected to be completed later this year.
Based in Halifax, England, Collett & Sons operates a fleet of heavy-lift trucks, trailers and SPMTs and provides breakbulk logistics throughout the UK and Europe. The firm is an exhibitor at Breakbulk events.
---
Subscribe to BreakbulkONE and receive more industry stories and updates around impact of COVID-19.