---
Sep 28 | 2020
Takes test drive with its Nooteboom Super Wing Carrier to simulate blade transport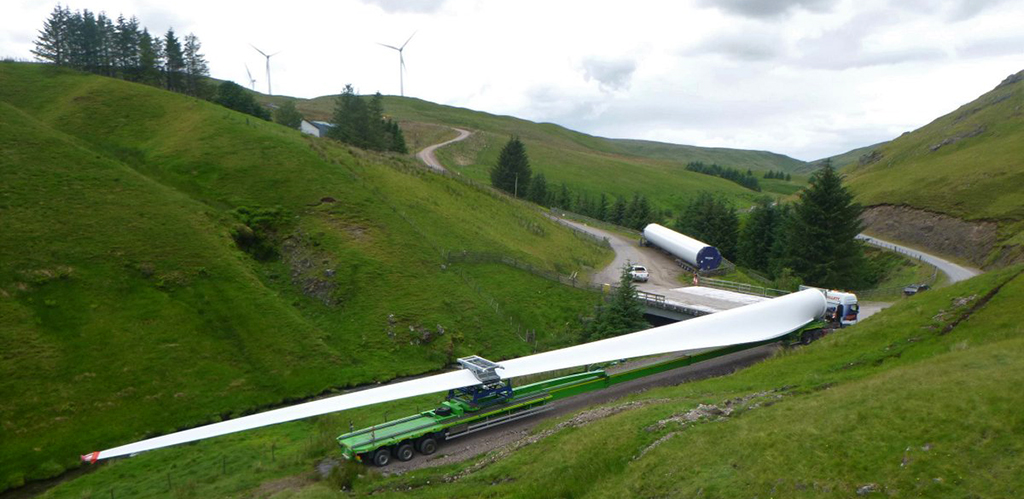 Collett has delivered all turbine components for Burnfoot Hill East wind farm extension, traveling by road from the Port of Grangemouth to Tillicoultry, Clackmannanshire.
The extension involved an additional three Vestas V112 wind turbines, each featuring 55-metre-long blades and 69-metre-high towers. As the components arrived into the port, Collett's team planned the vessel's discharge, transferring all components to our dedicated port side depot for storage and onward transport.
Prior to delivery, preparation for the 60-mile journey began with Collett undertaking an authorised test drive, utilising our Nooteboom Super Wing Carrier with a pre-determined configuration to simulate the transportation of the 55-meter-long blades. Once the route had been approved, Collett pre-delivered the majority of the components, including the blades, nacelles, hubs, drive trains, base and mid tower sections. Finally, the top tower sections followed a strategic just-in-time delivery schedule in line with the wind farm's installation programme.
The nacelles, weighing 80 Tonnes, were the heaviest components to be delivered. The blades, although the lightest were also the longest components weighing 8 Tonnes and measuring 55m. The towers were delivered in three sections, the heaviest being the base sections weighing 55 Tonnes and measuring 16m. The middle sections weighed 43 Tonnes and measured 21m and the top sections, which are the longest and thinnest sections, weighed 44 Tonnes and measured 30m.
To overcome the component's complex variety of dimensions, Collett employed the use of its diverse fleet of specialist equipment. This included its Super Wing Carriers, tower clamp trailers (specifically designed for the transport of wind turbine towers) and five- and six-axle extendable semi-trailers.
The journey covered a combination of motorways, dual carriageways and A-roads, including a harsh 90-degree bend to cross Backhill bridge on approach to the construction site. However, with the assistance of the Super Wing Carriers, which provide a 60-degree steering angle and significantly more suspension travel (lift/lower) for extra ground clearance, Collett's experienced operators delivered all components safely to site.
Burnfoot Hill East Wind Farm was formally consented by the Clackmannanshire Council in March 2019. The wind farm took around 12 months to complete and will produce enough electricity for up to 6,000 homes. The wind farm is an extension to the existing 21-turbine Burnfoot Hill, Burnfoot Hill North and Rhodders wind farms, all located in Clackmannanshire, Scotland.