---
Oct 02 | 2020
(Americas Digital Special) DHL's Jake Swanson talks about rapid tech applications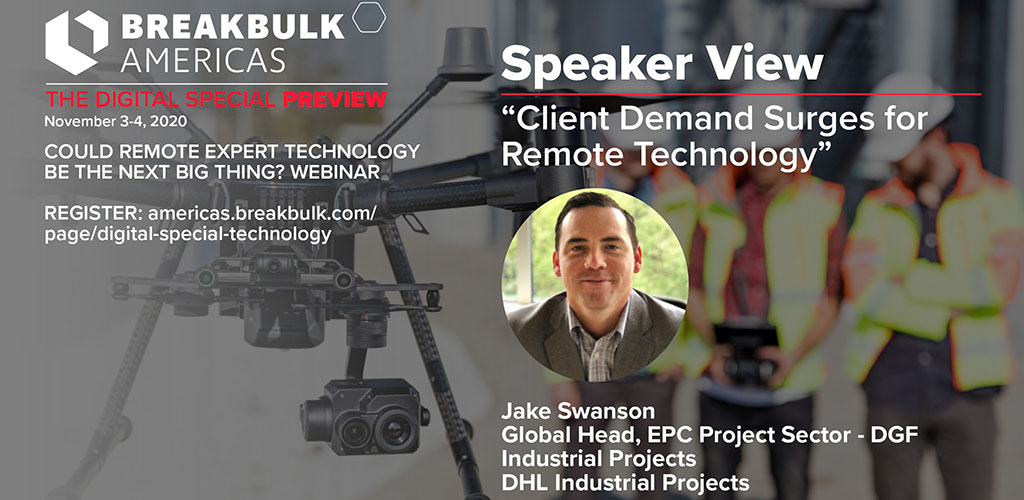 Here Breakbulk's marketing and media director Leslie Meredith catches up with DHL Industrial Projects' Jake Swanson who shares some good news about the project landscape and talks about the rise in demand for remote technologies. Jake will join Breakbulk Americas: The Digital Session as a panelist on "Could Remote Expert Technology Be the Next Big Thing?" set for Wednesday, Nov. 4 at 10:00 a.m. CDT.
Leslie:
It's been several months since we last spoke – do you see any changes in the project market?
Jake:
Yes, I've noticed an uptick. We are seeing more requests from our clients, more requests for information, requests for pricing. We've seen RFQs for project work come out a bit more over the summer compared to the early months of COVID. And as we start seeing final investment decisions move forward, that will be a really good sign for our industry.
Leslie:
Are these requests coming from within the U.S. or outside of it?
Jake:
It's a combination both within the USA and outside, which depends on what sector that you're looking at. For instance, we're seeing activity around oil & gas projects in the U.S. and the U.S. Gulf in particular, slowly start to ramp up. Renewables and mining are steady.
Leslie:
Let's turn our attention to technology, the subject you will be speaking on in the upcoming session for Breakbulk Americas: The Digital Special. Has the drive to adopt various technologies increased over the past six months?
Jake
: Yes, not just in our industry, but in all industries. Of course, we've seen an increase in just the use of virtual meetings via Zoom, Microsoft Teams and other platforms. We're all used to that now. We interact with our clients and colleagues located around the world and even do conferences like the one that we're talking about for Breakbulk Americas.
For companies with travel restrictions, the work must go on. In the project world that we live in, we need to be safe and we need to make sure that things are taken care of in the in the right way. The use of phones and cameras and other tools to look at things remotely is something that we're definitely seeing pick up, and it's something that our clients are asking for.
Leslie:
What sectors or roles across the industry could benefit from remote technology?
Jake:
There are many. Within Health, Safety and Environment roles, safety personnel should be able to review and evaluate things using these remote tools. Other areas would be engineers, technical experts and port captains who could be in a central location and still observe operations. Usage could even trickle all the way down into a commercial or business development type role where these tools could be used to activities to customers. And of course, project managers would find remote access and observation very useful.
Register now for
"Could Remote Expert Technology Be the Next Big Thing?"
featuring Jake Swanson, Stephen "Spo" Spoljaric, corporate manager of global logistics for Bechtel Corporation and Capt. Andrew Kinsey, a senior marine risk consultant for Allianz Risk Consulting.
Watch the full interview with Jake Swanson
---
Subscribe to BreakbulkONE and receive more industry stories and updates around impact of COVID-19.