---
Nov 25 | 2019
Need to Capitalize on Tech Opportunities
By Sven Hermann
Logistics service providers, or LSPs, are optimistic regarding the current breakbulk market and their company prospects, although they are wary of digitization issues and of finding ways to differentiate through innovative solutions and processes.
According to a market survey focused on logistics service providers conducted earlier this year by consulting company ProLog Innovation in cooperation with NBS Northern Business School Hamburg, more than 80 percent of respondents said that they believed in a positive and growing market for breakbulk. Less than 3 percent expected a negative market. The survey counted 67 replies from LSPs in the breakbulk and projects logistics sector.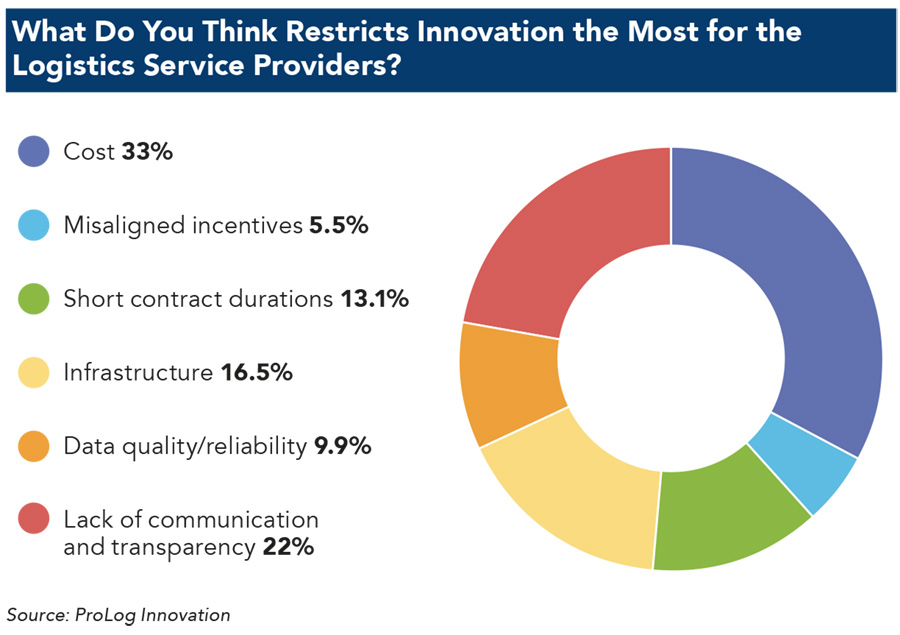 The regions with the greatest potential, according to the respondents, were Europe and Southeast Asia followed by Africa, Middle East and North America. Asked what their greatest challenges were, respondents named cost pressure (42 percent), digitization (14 percent), quality (13 percent), and finding employees and talent. Other challenges that did not rate so highly included managing customer expectations and time pressures.
When the survey participants were asked how they planned to differentiate themselves in the future, 41 percent of respondents said with innovation. Second were quality and process and price transparency, tied at 22 percent. Only one in 10 respondents saw price as the most important criteria, while only 5 percent cited differentiation through sustainability as a promising way to gain competitive advantage.
Performance Metrics
In more general terms, the majority of respondents – 70 percent – felt LSPs were more innovative than freight owners in the breakbulk business. However, ranking their own marketing performance, LSPs were more conservative: 50 percent of respondents rated it as "good to very good" and 34 percent answered with "satisfactory."
The survey asked respondents where innovation efforts should be focused. The top three rank put digitization of processes (25 percent) at the top, and use of new technologies and development of new business models tied in second place (both at 20 percent). Surprisingly, sustainability was pegged at No. 4 at 18 percent.
Regarding the use of new technologies, ongoing technology projects and prototyping, 31 percent cited Big Data as the technology with the most potential, followed by optimization algorithms at 16 percent, blockchain at 10 percent, augmented and virtual reality at 9 percent, and sensor technologies at 9 percent. Fifteen percent of respondents answered that their company is not involved in a technology innovation project.
Asked to name the biggest obstacle to innovation, 33 percent of respondents listed costs, 22 percent listed lack of communication and transparency, and 17 percent listed own infrastructure. Regarding their prospects for the next five years, 74 percent of respondents anticipated that they would be high or very high, confirming the positive market sentiment evident at Breakbulk's events this year. Yet despite that optimism, LSPs in the breakbulk business will face some major innovation and technology challenges and changes in the coming year.
Sven Hermann is professor for logistics and supply chain management at NBS Northern Business School Hamburg, and managing director of ProLog Innovation.

Image credit: Shutterstock