---
Jul 02 | 2020
Europe's Infrastructure Works Promise Project Tonic
By Namrata Nadkarni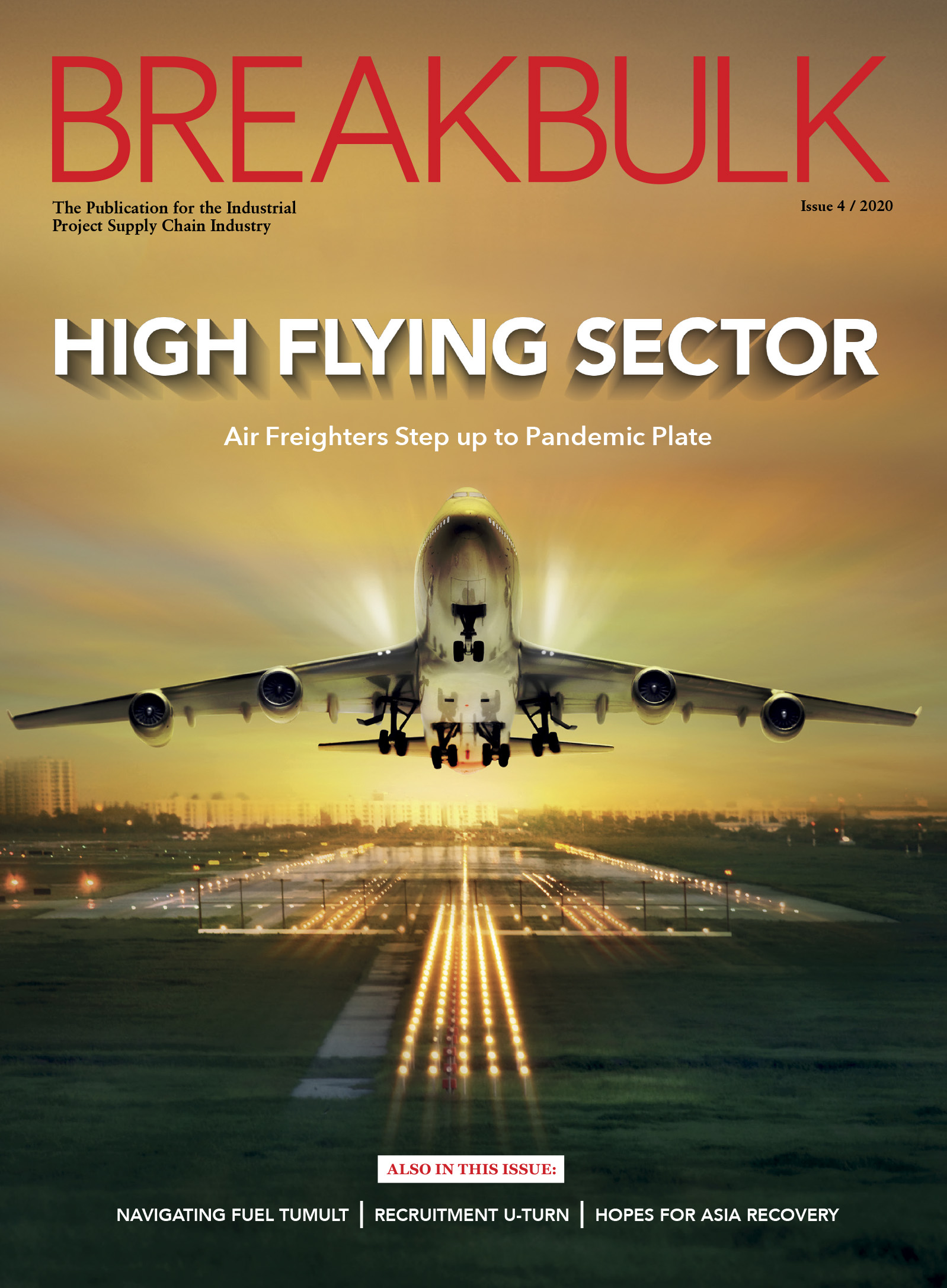 Covid-19 might have thrown a pandemic-sized spanner in the works for global economies, but there is one sector that continues to lean heavily on the breakbulk and project cargo industries. Many civil engineering projects continued through national lockdowns, and with governments expected to invest in public infrastructure work to inject life back into flailing economies, those serving the built environment sector look set to benefit.
Statistics on the UK from data provider Glenigan and cited by The British International Freight Association, or BIFA, estimate that some 43 percent of UK construction sites stopped work during the first six weeks of the coronavirus crisis, amounting to 3,636 projects between March 23, when the UK-wide lockdown was announced, and May 12, the day after firms in the sector were actively encouraged to return to work. The flipside of this is that more than half of construction sites in the UK alone continued to operate during the peak of the lockdown. During the pandemic, construction has emerged as a sector that the UK government is keen to keep moving.
Some of the major infrastructure projects were halted, according to Robert Keen, director general of BIFA – including HS2 and Tideway – but many sites have now reopened. However, Keen points out that progress has not been uniform. He cites figures from Build UK that show that although output in London was running at 68 percent in May and 86 percent of infrastructure and construction sites in England and Wales were open, this compared with just 19 percent in Scotland.
Government Spending Encouraged
The combination of low oil prices, stock markets in crisis, reduced world economic output and a predicted deep global recession have set the scene for a very challenging year ahead. This puts the onus on governments to keep the infrastructure sector busy.
"The government has been clear many times that it wants housebuilding and construction activity to continue, so we can anticipate public sector spending to drive construction activity through infrastructure and also added incentives for housing," Keen said.
Engineering professional services consultancy WSP representatives echoed the view that government support and a focus on critical infrastructure will keep many companies busy over the coming months, particularly for projects that were green lit prior to the pandemic. "Globally, if there is a development plan that has become necessary because of capacity constraints, then those plans will go ahead on a pragmatic basis that if we need the capacity now, we will need it 10 or 20 years from now as well," explains Steve Wray, associate director for maritime – advisory at WSP, adding that there is plenty of work available for companies in the coming months.
In fact, social distancing measures are likely to lead to longer timelines for projects than initially anticipated, points out Charles Haine, WSP technical director, maritime. Haine believes that the proven resilience of the supply chain, as evidenced in the continuing flow of project cargo and ongoing activity at ports, will mean that workers will have the resources needed to continue their work.
However, new projects may struggle to get approved, Wray warns, although this is down more to financial confidence than logistical hurdles. "Approving a project will require companies to pay money out and there is nervousness about the state of the economy and when it is going to recover," he said.
Keen added that forecasting project prospects further than a year out is risky. "It would seem that the pipeline of projects that are financed and ready to go are most probably going to proceed, but the picture for 12 months hence is very negative," he said.
Bridging The Gap
One sector that continues to provide steady civil engineering work to the breakbulk and project cargo sector is bridge installations. Mammoet, which acquired ALE in January this year and will be debuting its new Focus 30 crane later this year, reports that it has had a relatively busy year in Europe so far. "We executed quite a few jobs in the last months within the infrastructure market, such as the installation of bridges in the Netherlands," a spokesperson said.
Mammoet was involved in two railway bridge installations at the Port of Rotterdam as part of the new €300 million Theemswegtracé branch of the port's railway line. The new line is four kilometers in length and is expected to increase connectivity with the hinterland and prevent bottlenecks in rail capacity as cargo throughput at the port increases. The first bridge was installed on April 4, 2020 and spans the Rozenburgsesluis lock. The second, installed on May 31, spans the Thomassentunnel and the A15 and N15 motorways. The latter bridge, which has a steel structure weighing 4,100 tonnes, is 269 meters long, 13.7 meters wide and 28 meters tall. The new railway line is expected to be operational in late 2021.
Gustav Seeland, one of Germany's largest providers of heavy goods logistics services, also recently performed a bridge installation project in its hometown of Hamburg in early March. The company supported the rapid replacement of a railroad bridge across the river Bille on Bullerdeich by demolishing the existing infrastructure within an extremely tight schedule of just three days. The old bridge was broken down into three parts that were transported for scrapping via floating pontoons. For the project, Gustav Seeland employed two 220-tonne capacity cranes, a 500-ton crane anchored on a pontoon and secured with hydraulic support pillars and also a 60-ton brake wagon with a tractive force of 80 tons.
Meanwhile, Germany's Schmidbauer completed a significant project in early May, assisting with the installation of the Streitgrabenbrücke bridge over a highway near Stuttgart. The bridge, which weighed 1,600 tonnes and was 130 meters long, was transported to the site using four heavy-duty self-propelled modular trailers with 2,000 horsepower and 224 tires. The transfer was conducted at "a snail's pace" and represents the heaviest weight that the Munich-headquartered company has ever transported.
New Technology Commitments
Many engineering companies are using the economic slowdown as an opportunity to invest in their technical solutions for civil engineering projects. While digital rejuvenation is popular at the moment, Mammoet is focused on the development of its new Focus 30 crane, which is scheduled to be market-ready by the end of this year.
"The Focus 30 has been designed in direct response to client demand for a better heavy lifting solution when working on congested sites," the spokesperson said. "It will be quick to assemble on site, in as little as 10 days, and capable of operating at ground bearing pressures as low as 6t/m2. This makes it a highly appealing asset for shutdown, turnaround and expansion work in the petrochemical and power generation sectors, as well as for civil construction work in busy urban areas."
Other engineering firms are opting to beef up their green credentials as environmentally focused projects are likely to be classed as critical in the coming months, making them more financially stable.
"There are a slew of projects coming to the table in the next decade that are carbon zero at their heart," explains WSP's Haine, adding that the consultancy has seen more demand for advice on how to manage embodied carbon and reduce greenhouse gases and emissions. He anticipates greater public appetite for greener civil engineering projects as a by-product of the lower pollution levels experienced as a result of the Covid-19 factory and trade shutdowns.
"You'll see this growing pressure on traditional civil engineering projects as well as critical infrastructure," he predicted.
Haine said that WSP is already involved in multiple green projects, including the HyNet hydrogen and carbon capture, utilization and storage project in the UK. The project has been identified by the UK's Committee on Climate Change as vital technology for achieving the ambitious emissions savings needed to meet the 2050 carbon reduction targets. It is designed to include up to three plants, with an annual production capacity of 18 terawatt-hours of low carbon hydrogen. Work is underway to have construction kick off on the project by spring 2021.
While some sectors, most noticeably the oil and gas sector, have been dealt a swift and decisive blow by the pandemic, the civil engineering sector could provide a safety net for breakbulk and project cargo companies. If governments follow through on infrastructure promises, civil engineering might well serve as a ray of light in an otherwise murky project cargo outlook.
Namrata Nadkarni is a London-based freelance journalist with 17 years of experience covering maritime, offshore, ports and the logistics sector.

Image credit: Danny Cornelissen.