---
Oct 09 | 2020
Explore the impact of the pandemic on fleet outlook with Susan Oatway. Where will cargo volumes come from in 2021?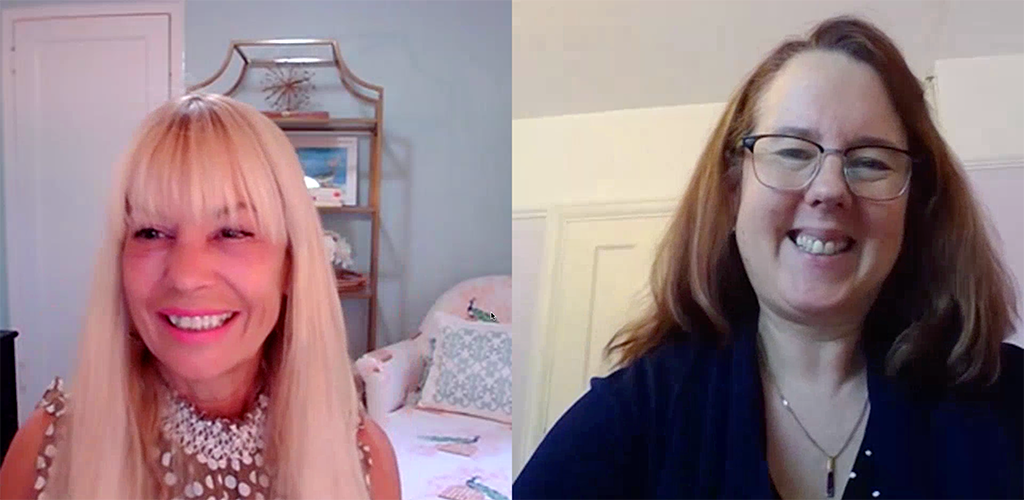 In this special edition of the BreakbulkONE Show, senior analyst Susan Oatway from Drewry will cover the top-level findings from the company's recent report and give us her insight on what this all means for the project cargo industry in 2021. Her findings will help carriers, EPCs and others to refine their projections for the coming year.
First, we look at the current state of the global project cargo fleet, which Susan breaks down into four categories: Premium Project Carrier, Project Carrier, Multipurpose, Multipurpose (no gear).
"The fleet at the moment is pretty static from even probably the last time we talked Leslie, which may be almost a year ago now, but we're still at around just under 3200 vessels, representing 29.2 million deadweight tonnes," Susan said.
What concerns her is the fact that newbuilding orders have declined significantly over the last five years. Today there are only 63 vessels on order, less than 2 percent of the operating fleet. "There's no real growth in the overall fleet," she said.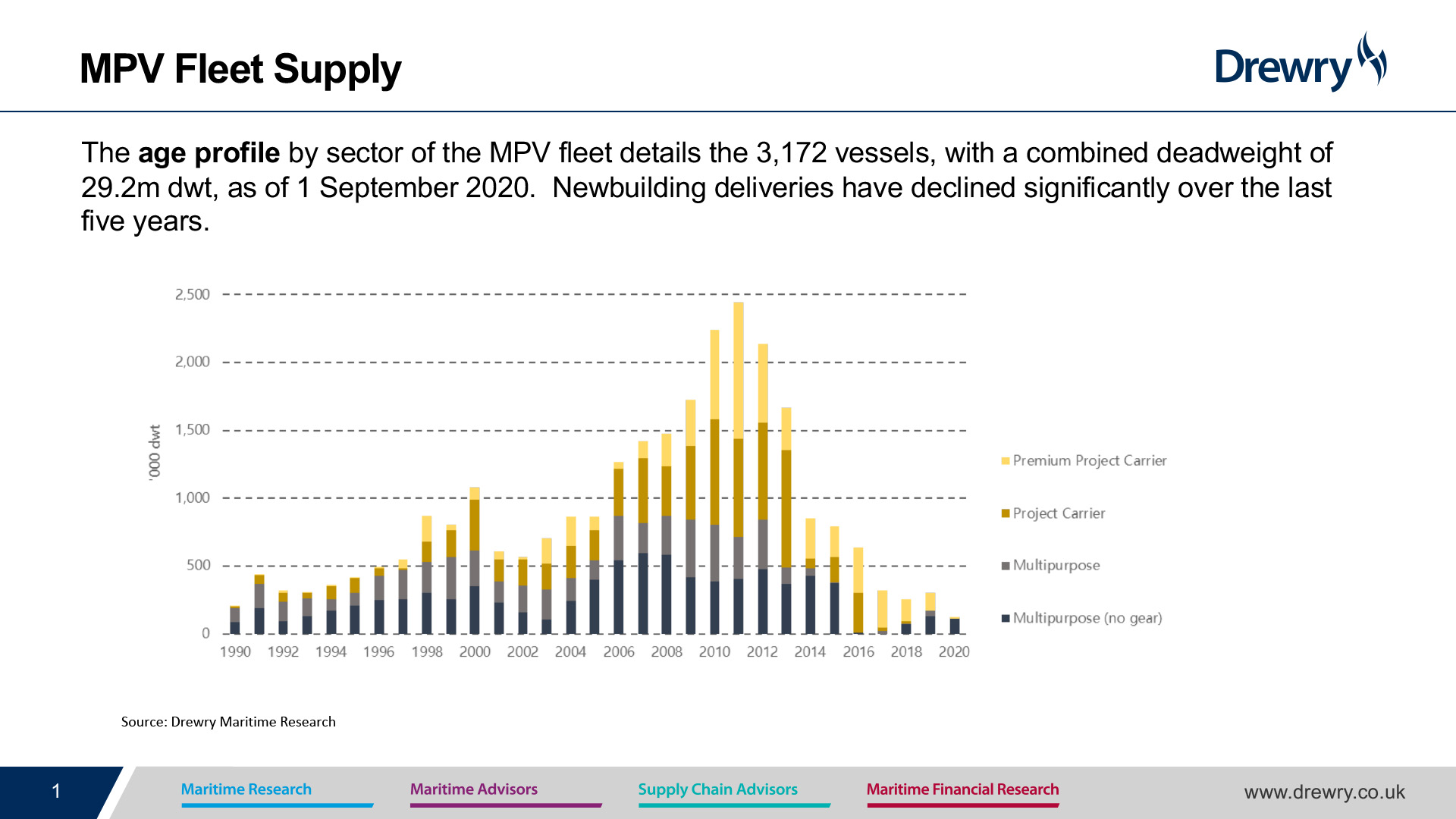 Click to enlarge
But that may not be all bad under today's market conditions with the lower cargo volumes recorded over the past nine months. Further, demolitions have already reached the level seen in all of 2019.
"There might be a slight contraction in the fleet this year, which is definitely a good thing when demand is weak," she said. "Then it's much better to have fewer vessels competing for those cargoes."
However, the decline in newbuildings points to a larger concern—an overall lack of optimism or confidence in this sector. "There's been so little investment in this sector for the last three or four years, but at some point things will get better."
Susan's report looks at MPV demand under three scenarios, base case, worst case and best case, which project different trajectories for the virus subsequent economic rebound. When she first wrote this report in June, things were different. "The last time I wrote the report in June I couldn't see any upside," she said. "I had a worst case and I had an even more worst case, so the fact that I now have a best case even though it's only very slightly better, is promising."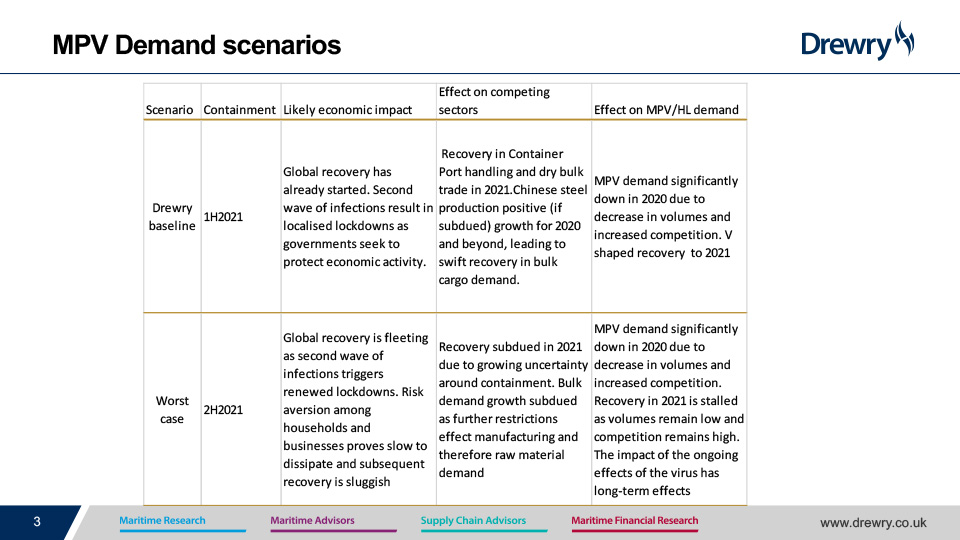 Click to enlarge
Under all three scenarios, she projects growth for the sector in 2021. "Our base case is something like 3 percent growth next year, best case is for 5 percent growth and our worst is only 1 percent growth, but it's still growth."
So where will demand come from? Susan points to the demand seen over the last three months from the manufacturing sector for quarantine-related consumer goods. "While shipping demand fell off a cliff in March and April, it started to come back by June when consumers were at home thinking, "We need a new desk, a new flat screen." We saw growth in containerized demand that was much better than we thought it was going to be," Susan said. In turn, this took some of the pressure off for container ship owners to look to breakbulk cargoes.
Looking ahead, Susan expects countries to kick start their economies again by looking at domestic construction, which will positively impact volumes. Renewables is a big bright spot for the project cargo fleet as well. During lockdown, people saw the dramatic effects of reduced manufacturing, less driving and other positive impacts on the environment, which Susan called a "game changer."
"People now want cheap, friendly fuel and they have realized, when you close down everything you get a much cleaner environment," Susan said. It's a big win for renewables. She said that although many projects were put on hold this year, she expects them to come back in 2021.
---
Subscribe to BreakbulkONE and receive more industry stories and updates around impact of COVID-19.