---
Jun 08 | 2021
(Global) Support for Partnership Model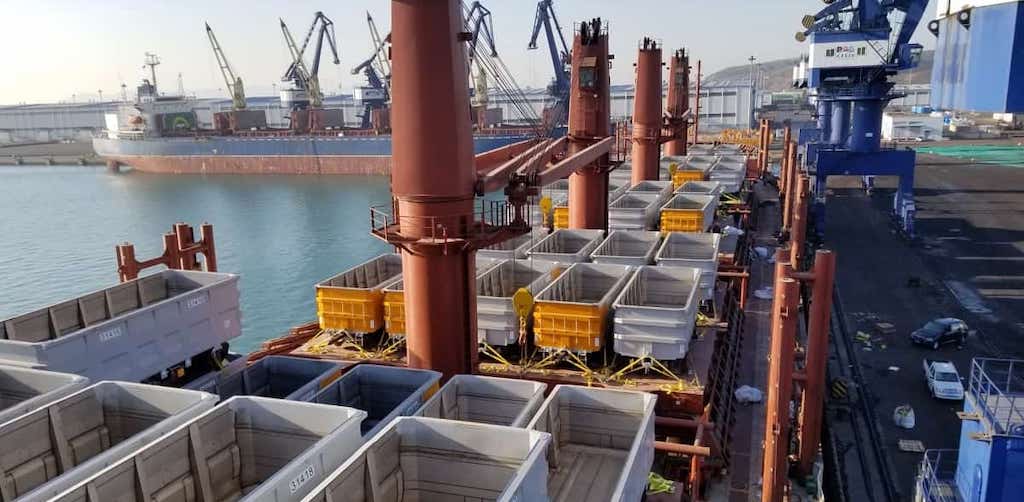 By Malcolm Ramsay
Momentum for mergers, acquisitions and partnerships in the breakbulk space shows no sign of slowing this year, as fundamentals point to ever greater consolidation and new forms of collaboration emerging.
Pressure to rationalize operations, in the wake of the pandemic, has affected businesses across the logistics supply chain, but for general breakbulk operators the shift has created a number of unique challenges as well as opportunities.
"In general, the breakbulk sector is fragmented. The 10-largest breakbulk operators (excluding open hatch general cargo operators) only account for around 10 percent to 15 percent of the global fleet in both fleet number and deadweight terms," Darron Wadey of research consultancy Dynamar told
Breakbulk.
"By contrast, the 10 leading container carriers account for more than half of boxships and well over 80 percent of capacity. In that regard, the breakbulk sector is ripe for consolidation and I can't imagine (m)any deals within it that would attract the disapproval of regulators on just the basis of controlling too much capacity."
Partnership Model
Alongside straight-out acquisitions and takeovers, a growing trend fhas emerged or deep partnerships, particularly for specialist breakbulk carriers, where the situation is typically more complex than for more general logistics firms. Collaborations between breakbulk firms that include tight integration of operations and back-office is increasingly popular, aided by the relatively small number of participants in the market.
"Looking at the heavy-load sector, the top 10 control around 60 percent of vessels and more than seventy percent of deadweight. Despite that, the recent tie in of SAL and Jumbo went ahead without regulatory demur. This might be a way forward for larger operators, especially if they operate like the container shipping alliances, rather than an outright takeover. In other words, teaming up without losing ownership is a model that we may well see more of in the future, especially in an already consolidated market like that of heavy-load," Wadey said.
Multipurpose vessel operators SAL Heavy Lift and Jumbo announced their deep partnership last quarter, and since then Heinemann and Bolloré Logistics announced their first-ever partnership in the Americas.
Nadine Heubel, CEO of Heinemann Americas, highlighted the importance of Bolloré's expertise as a logistics and warehouse partner to drive expansion in the U.S. cruise market, adding, "when exploring potential partners for our Miami-based operations, Bolloré Logistics was the clear choice – and we are excited to be working with them."
On land, breakbulk operators are also facing pressure to consolidate with rumous that one of the Germany's biggest transport groups, Deutsche Bahn, is planning to divest its DB Schenker division to Danish logistics group DSV Panalpina. Comprising divisions for air, land, sea freight, and contract logistics DB Schenker generated of more than €700 million last year and any deal is estimated to be worth at least €8 billion. DSV declined to comment but noted the firm's "strong history of M&A."
"For all markets, the truism is that a struggling company will always be attractive to one that isn't struggling. Returning to the general breakbulk operators, there will be opportunities out there, but aside from Zeamarine – and we know what happened after it soared high and fast – nobody has really shown any appetite for acquisition. Indeed, when Zeamarine reached its denouement, its fleet was taken on piecemeal by others and even saw a rebirth of one of its parts, Intermarine. This was later taken on, via a majority stake, by SAL. Still, the point holds, it was a part of what was Zeamarine. In the last decade, Maersk struggled to dispose of Safmarine MPV in one go. That too was only moved on piecemeal, with constituent parts taken on by different operators," Wadey said.
Based in Alkmaar in the Netherlands, Dynamar provides maritime intelligence, investigation and vessel tracking worldwide as well as a range of consultancy products, including market and competition analyses.
Expertise and relationships
While the partnership model may present a number of advantages going forward it can also present challenges for firms, depending on the exact nature of the agreement.
Clear understanding and delineation of responsibilities has to be established across both businesses, taking into account evolving working practices in light of Covid. And while a partnership can avoid many of the pitfalls of a full-scale takeover and integration between two rival firms it can also present its own logistical challenges.
"Unlike the commoditised container sector, the breakbulk operators are much closer to the cargo interests. It's almost as if every piece or parcel of cargo needs specialist and individual attention. In contrast, the vast majority of metal boxes can be handled the same way," Wadey adds. "Thus, acquiring a breakbulk company of scale will require a lot more effort at the personal and operational level than with containers (and might not generate all that much in economies of scale savings). Buying in specific expertise and relationships in small steps so that it is more evolutionary than revolutionary is what the sector has done, and most likely what it will continue to do."
Wadney highlighted the success of the wholesale acquisition of Rostock-based Hugo Stinnes Schiffahrt by Vineta, the owner of Hamburg-based multipurpose shipping line MACS in 2017. This deal saw the firm consolidate breakbulk services and strengthen its offering by avoiding duplication.
"This was a logical move as Hugo Stinnes added to the MACS network and capability without too much in the way of duplication. Although the deal was relatively small in scale, especially when compared with Zeamarine's comings and goings, and when we place it alongside at these 'piecemeal' acquisitions, it is the model the breakbulk sector has generally adopted," Wadey concluded.
---
Subscribe to BreakbulkONE and receive more industry stories and updates around impact of COVID-19.