---
Sep 23 | 2020
(Americas) Early Ice Disrupts Transit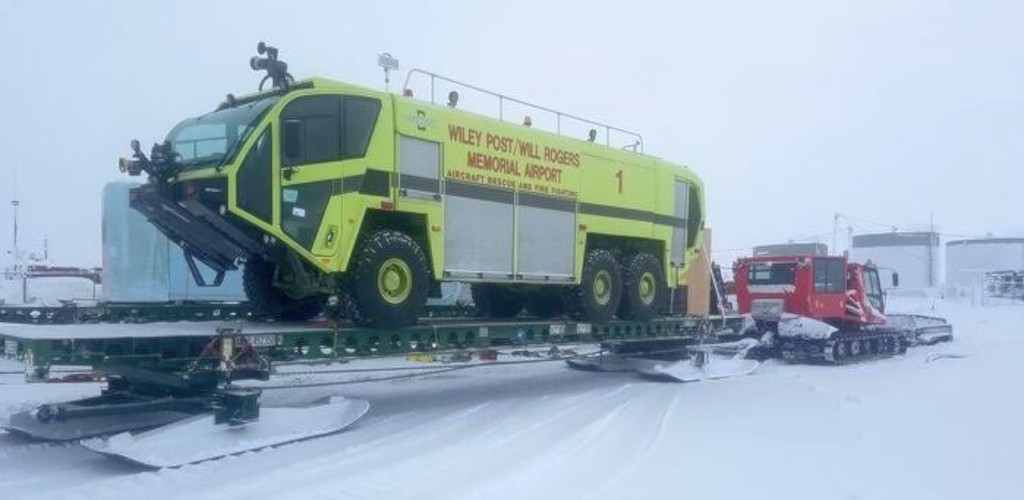 Rail transport firm BNSF Logistics has transported an outsized Oshkosh Striker truck from Wisconsin to Alaska.
The Airport Rescue and Firefighting vehicles was loaded in Oshkosh, Wisconsin, and transported to Seattle, Washington, for steamship transfer to Anchorage. From there the cargo was delivered by barge to Utqiaġvik, north of the Arctic circle.
"During transit, the barge authority notified BNSF Logistics that unseasonably early ice blocked the channel to Barrow. BNSF Logistics devised a creative solution: transfer the ARFF vehicle from Anchorage to Fairbanks on a special trailer; winterize and prep for the 200-mile journey to Deadhorse, Alaska, and storage until the road connecting Deadhorse to Barrow became passable," a spokesperson for BNSF Logistics said.
Headquartered in Dallas, Texas, BNSF Logistics is a road transportation services subsidiary of Burlington Northern Santa Fe, a Berkshire Hathaway company.
---
Subscribe to BreakbulkONE and receive more industry stories and updates around impact of COVID-19.