---
Sep 13 | 2020
Carriers are Blurring Wind Services Lines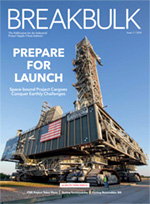 By Thomas Timlen
Staying one step ahead of the ever-growing logistics needs of the renewables supply chain can be a daunting and at times thankless task.
Yet, for companies up to the challenge, there are some thankless tasks that evolve into opportunities for business expansion and sustainability. Despite falling oil prices and the consequences of a global pandemic, the renewables supply chain appears to be creating such benefits for stakeholders across the board.
"Renewables in general and offshore wind in particular seem completely decoupled from the fall in oil prices," Offshore Heavy Transport CEO Torgeir E. Ramstad told
Breakbulk
. Offshore Heavy Transport, or OHT, is increasingly involved with installation works while maintaining its core heavy-lift transport services. "Our timing is tied to the development in the offshore wind market and an identified gap in vessel capacity which is capable of handling the future generations of turbines and foundations.
"We don't see this as a transition from heavy-lift transport," Randstad continued. "We remain committed to the heavy transportation market, as owners and operators of five heavy transport vessels. In relation to our entry into the offshore wind installation market, these are new vessel concepts which have been designed specifically for installing foundations and turbines for the offshore wind sector. Therefore we have added additional vessels and additional expertise to a new market for OHT."
Opportunities and Challenges
The increased deployment of tidal turbines provides opportunities for all segments of the transport sector, conventional, heavy-lift and breakbulk alike. At the larger end of the spectrum are turbines produced by companies such as Edinburgh, UK-based Simec Atlantis, who recently manufactured a tidal turbine with a rotor diameter of 18 meters in Wuhan for installation in China's Zhoushan archipelago, an operation involving specialized road and sea transport. The company is involved with the production of future, larger tidal turbines with rotor diameters between 20 and 24 meters, which in addition to generating electricity, will also generate additional future demand for heavy-lift and project cargo transportation services to destinations in the UK, France, the Channel Islands, Asia, Australia and Canada.
Returning to the most visible renewable sector, wind, the deployment of turbines continues at a steady pace with turbines continuing to grow in size.
"The wind industry does provide a great amount of work for project cargo transporters, which to many players is seen as a blessing when other sectors, especially oil and gas, have cooled off," Christian Hoffmann, head of marketing and corporate communications at SAL, told
Breakbulk
. "Tonnage-wise the industry is still able to face demand, but as unit parts grow bigger it does put constraints on the supply side simply due to handling abilities, especially [for] the transportation of foundations such as monopiles, transition pieces and jackets [which] puts greater demand on vessel and operator capabilities."
The situation is similar for moving turbines on land, as Greg McComas, BNSF Railway's manager for customer support, explained. "We have seen continued strength in our wind-rail transportation volumes, and believe this will continue into next year. Alongside hauling renewable energy components, there is a direct correlation with grid construction components, such as transformers moving by rail via North American production or port breakbulk to regional growth areas.
"Modifications to wind energy equipment and other energy components provide unique challenges for rail transportation providers, given the size and capacity of rail networks. Cooperation with our customers and service providers is paramount to develop creative design solutions to move equipment safely and efficiently through our network. These solutions often involve proprietary knowledge and revolve around the use of our versatile 89-foot flatcar," McComas said.
Demands on the Fleet
The dual challenges of larger units and increased demand for their transport raise the question of whether fleet expansion and refitting of existing vessels will be required. At SAL, the feeling is that more specialized vessels will be needed.
"Refitting existing tonnage will in our opinion only be sensible to a very limited extent," Hoffman said. "Newbuilds that have been carefully designed to match the requirements of both today's turbines, but also those of tomorrow, must be on the drawing boards of vessel operators if they are to meet future demand."
Hoffman said SAL is seeing limitations on how many units a vessel is able to accommodate in one voyage, particularly with respect to blades or monopile foundations, but also in terms of handling capabilities of the largest nacelle units, which weigh more than 600 tons. This limits the number of multipurpose vessels that can handle the load. "So when we talk about units which require greater technical abilities, then there are still limitations to the number of capable operators," he said.
On the question of available capacity, Francisco Rodrigues, Mammoet's segment lead for offshore wind, added repositioning to the list of challenges ahead. "With the increased demand for foundations and turbines in emerging offshore wind countries, it is currently unclear where the current capacity will be required to support the market, as it will also depend on the demand from other markets such as oil and gas, petrochemical and others beyond renewables." He expects that heavy transport equipment will need to be relocated globally to support the market while a local supply chain is being set up.
SAL has a strong presence in the transportation of large monopiles and transition pieces. It has designed and deployed special lifting tools as well as specialized storage and sea fastening solutions to create a "technically efficient" solution that fits the transport scope and flow required by its customers, Hoffman said. More recently, it has moved into the offshore installation space with its dynamic positioning vessel Lone, which undertook the installation of a temporary subsea template last year in connection with an Asian offshore wind project.
"We have more offshore installation works in the pipeline in the months to come, as we have also secured some large contracts for transport of wind turbine parts in 2021 and 2022, so it is clear to say that wind is our biggest revenue driver right now," Hoffman added.
Installation Roles
Carriers are also, in some cases, becoming installers, blurring the lines between transport providers and renewable energy producers. Take the involvement of Norway's OHT in the Dogger Bank Wind Farm as an example. The foundations needed for Dogger Bank Wind Farm off the east coast of Yorkshire, UK – said to be the world's biggest offshore wind farm – will be among the largest foundations ever used for offshore wind.
Installation is scheduled between 2022 and 2023. To transport and install the foundations, OHT ordered the specialist newbuild vessel Alfa Lift, which is under construction at CMHI'S shipyard in China, with options for additional vessels.
Alfa Lift will transport the monopile foundations and transition pieces to the Dogger Bank offshore site and install them in water depths up to 35 meters, utilizing the vessel's 3,000-tonne crane. The Dogger Bank Wind Farm is being developed by SSE Renewables and Equinor, with first power expected in 2023.
Mammoet has also gone beyond transport to take on installation. It has expanded its traditional wind activities to include turbine planning and design for both inshore and offshore wind farms, which led to transport and installation of the highest-ever tower section as well as the heaviest nacelle.
In another example, Swire Blue Ocean has been selected by MHI Vestas Offshore Wind for the transportation and installation of wind turbine generators at the Seagreen offshore wind farm 27 kilometers off the east coast of Scotland, UK, in the offshore wind market's deepest waters. The project will be Scotland's largest offshore wind farm upon completion, covering the energy needs of about 1 million homes. The turbine installations are expected to commence in the second half of 2021.
Moving Production Facilities
The increasing unit sizes of renewable equipment has not only raised questions regarding transportation providers' capabilities, but also begs the question as to whether or not there will be a trend towards more near- or on-site fabrication.
In Rodrigues' view, this, and other innovations, will be a necessity. "In the short term, and until the local supply chain is ready to manufacture these larger turbines and foundations, the developers, EPCs (engineering procurement and construction companies) and supply chain will have to innovate their logistics plans to keep the same levelized cost of energy and bring projects forward as planned. In the long term, as part of the local content requirements, and providing a clear pathway towards offshore wind developments, we should see more and more local investments in fabrication facilities and local job creation."
An example of manufacturing moving closer to installation sites is Taiwan's Formosa 1 Phase 2 project, a joint venture between Mammoet and Giant Heavy Machinery Services, which has started working with Sing Da Marine Structure Corp., a marine engineering subsidiary of China Steel Corp., to provide assembly, transportation and load-out services for Taiwan's first locally fabricated wind turbine jacket foundations, on site at its manufacturing facility.
Prospects for continued opportunities are echoed by Liang Xuan, South America general manager for China's wind turbine producer Goldwind. Xuan told Breakbulk that as renewable energy has become the relatively lowest cost source of energy globally, this has helped to drive Goldwind's global expansion. As such, renewable energy development is no longer dependent on government support, but is growing naturally on its own merits due to its current economic competitiveness.
Ramstad agreed with Xuan's views: "The biggest factor which is driving down the levelized cost of energy in offshore wind is the increasing size of the wind turbine generators, or WTGs. It is largely this cost reduction and the development of offshore wind technology which has resulted in the market growing exponentially on a global scale. The increasing size of the WTGs and in-turn foundations, together with the growing size of the market, has resulted in a necessity for larger and more capable vessels to be developed. It is this need that we are responding to. We are not adding capacity to an existing caliber of vessels, we are adding a capability which is lacking in the market and essential for the growth of the industry as the next generation of WTGs come in to play."
The wide range of equipment sizes and shapes found in the renewable equipment sector, all requiring transport from place of manufacture to place of installation, bodes well for all transport providers, with opportunities for heavy-lift and project cargo companies to expand their roles, and capabilities, beyond transportation into installation and design as renewable energy solutions are further expanded.
However, for the larger units, there are formidable barriers to entry, as Ramstad pointed out: "Key to any player in offshore wind is a solid organization and track record, with fully developed processes, procedures and governing systems. If you don't have this, you will not be pre-qualified to bid directly towards the end clients."
Thomas Timlen is a Singapore-based freelance researcher, writer and spokesperson with 28 years of experience addressing the regulatory and operational issues that impact all sectors of the maritime industry.