---
Mar 10 | 2021
(Russia) Delivery to Amursk Hydrometallurgical Plant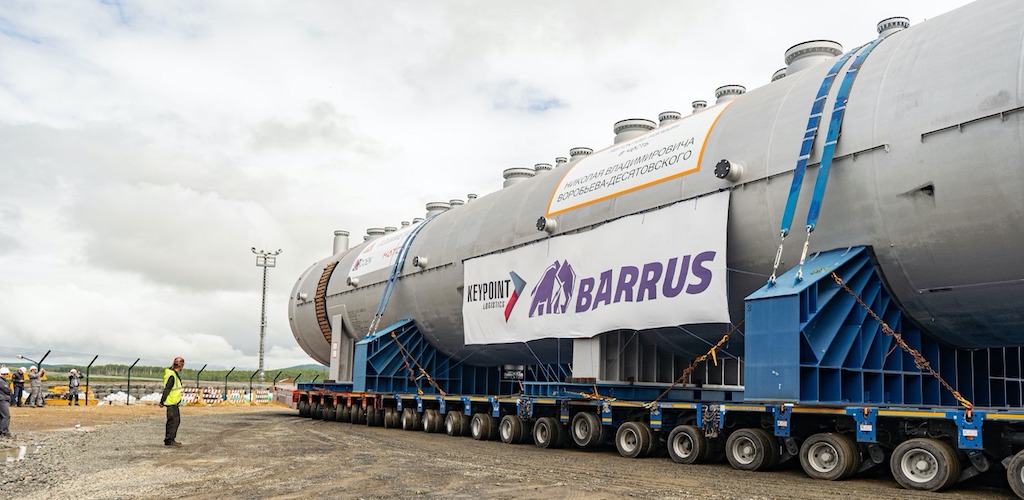 Breakbulk carrier Barrus Projects has completed the third stage of transport for an outsized autoclave unit, delivered from Antwerp, Belgium, to Amursk, Russia.
The complex project involved multistage transport with the 1,100-tonne autoclave initially shipped from COEK Engineering's berth in Geel, Belgium, to the port of De-Kastri in the Far East of Russia.
"The project was carried out by the Key Point Logistics team, which attracted Barrus Projects for the contract work. [Cargo] was delivered without delays and slightly ahead of the planned schedule, despite all the difficulties of the route and the epidemiological situation," said Taisiya Schukina of Barrus.
Water Level Fluctuations
Following arrival in Russia, the second stage of the project involved reloading onto a specialized barge from the port to Amursk, at which point the third and final stage was completed.
"The biggest challenge of this project were the colossal fluctuations in water levels in the Amur river, which do not occur in the central part of Russia. Such drops in water levels can reach 5-7 meters in a very short time. The implementation of the entire project depended on the quality of the solution to this challenge," Schukina said.
To meet this challenge, the design team from Barrus developed a unique technical solution, utilizing a roll-on, roll-off berth designed to counteract water level fluctuations.
"We designed a temporary bank protection structure using two sets of ramps and a transitional support pile, the elevation of which, depending on the actual water level, could be adjusted for roll-on, roll-off unloading of cargo," Schukina explained.
With this structure in place, the team were able to complete final transport and installation of the unit as part of the Amursk Hydrometallurgical Plant constructed by industrial firm Polymetal.
28 Double-width Configuration
In total, preparations for the project took the various teams two years and resulted in delivery in full compliance with the requirements of the customer, the сity and district administration, while keeping the impact on the quality of life of Amursk residents to a minimum.
For installation, Barrus deployed its own fleet of vehicles to Amursk, using self-propelled modular transporters in a rare 28 double-width axle line configuration. The autoclave was installed on its foundations using two hydraulic gantry systems with a lifting capacity of 1,100 tonnes each, marking a first time in Russia such a procedure was attempted.
Headquartered in Moscow, Barrus provides a range of breakbulk services in three countries via a network of 29 offices. The firm is a Global Event Partner for Breakbulk exhibitions.
---
Subscribe to BreakbulkONE and receive more industry stories and updates around impact of COVID-19.