---
Jul 15 | 2020
(Asia-MENA) Shipment from Dubai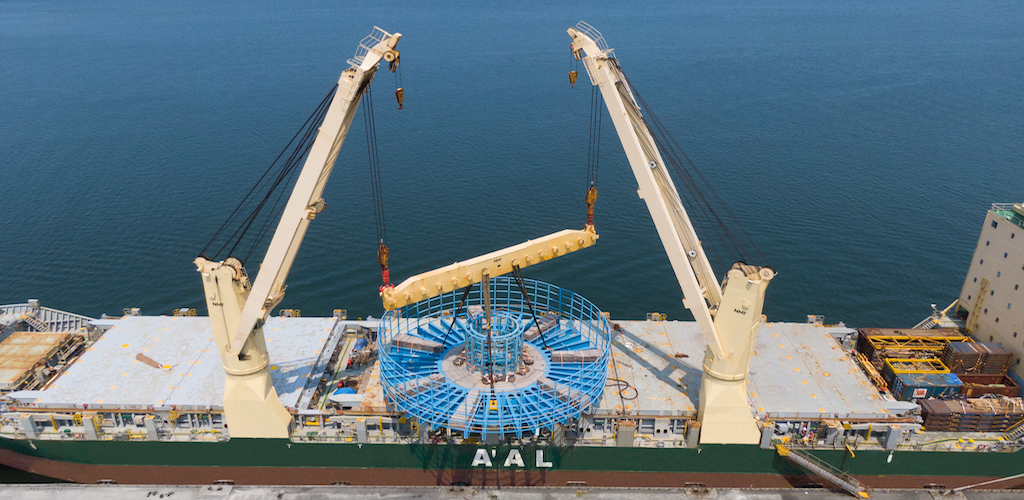 Heavy-lift carrier AAL has shipped a giant cable carousel from Dubai to Taiwan.
The outsized unit measured 23 meters in diameter and was delivered to the Jan De Nul Group, for the Formosa 2 offshore wind farm project. Cargo was loaded in Jebel Ali and transported aboard the multipurpose vessel
AAL Nanjing
to the port of Taichung, Taiwan.
"Manufactured in Norway's Drammen Yard and designed to spool 3,000 tonnes of undersea power cable, the carousel alone weighed over 370 tonnes. The unit was loaded and discharged using both of the Nanjing's port-mounted HL cranes and rigged in three points to a 22.5-meter lifting beam," said Yahaya Sanusi, deputy head of AAL Transport Engineering.
AAL is a member of Cypriot investment group Schoeller Holdings and operates a specialist multipurpose fleet with heavy-lift capabilities of up to 700 tonnes. The company provides breakbulk, heavy-lift and project cargo services worldwide and is an exhibitor at Breakbulk Europe.
---