---
Jan 21 | 2021
Pressure Mounts to Bring Covid-19 Vaccines to the World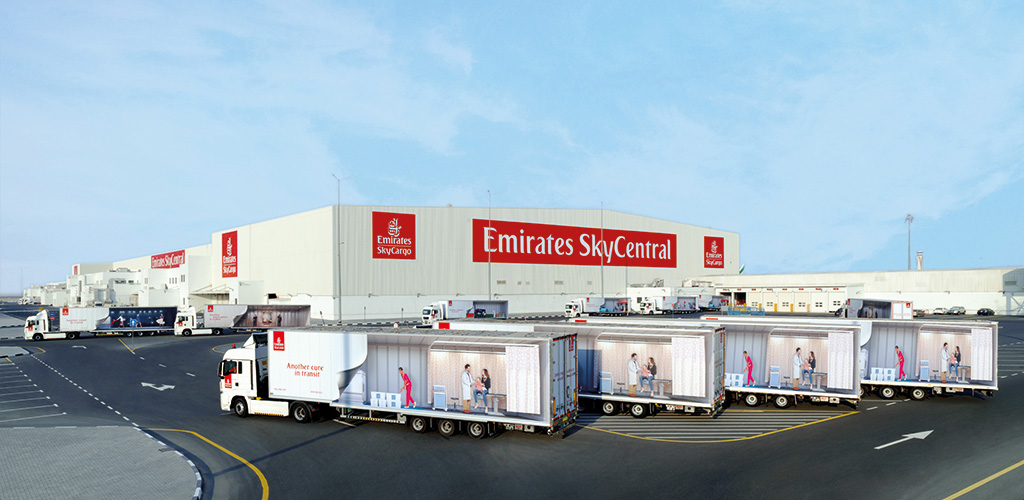 By Carly Fields
The end of 2020 marked a new beginning for a trade that nobody had anticipated at the start of that same year: global distribution on an incomparable scale of Covid-19 vaccines. And it is a trade that could keep breakbulk air freight providers and project cargo specialists delivering the huge refrigeration units needed at critical transshipment hubs busy well into 2021.
A mid-December paper published in the peer-reviewed medical trade journal the BMJ on Global, Regional, and National Estimates of Target Population Sizes for Covid-19 Vaccination: Descriptive Study, put the scale of vaccine transportation potential into perspective. The report's academic authors took the population of the 194 member states of the World Health Organization as a starting point to calculate that the target population willing to be vaccinated stands at 3.7 billion. With some vaccines requiring double doses for efficacy, the transportation demand is vast.
In a white paper, logistics specialist DHL drilled the need down further to some 200,000 movements by pallet on 15,000 flights over the next two years. Agility Vice President of Life Sciences Eric Ten Kate put it another way: "The air cargo capacity requirement for a global Covid-19 vaccine effort is anticipated to be five times the normal air cargo requirement for transport of all vaccines over 2019."
For Kate, there are many moving parts when it comes to understanding the ongoing logistics needs for the vaccines: "There are so many variables both on the vaccine-development front and in efforts to build a supply chain that can deliver vaccines. There is no one-size-fits-all approach to the science or on the supply chain side, so we still have a lot of unknowns."
Middle East Experience
Dubai is no stranger to vaccine transportation. State-owned Emirates SkyCargo has more than two decades of experience in transporting temperature-sensitive pharmaceuticals, including vaccines. In 2019, it transported more than 75 million kilograms of pharmaceuticals on its aircraft. In 2016 it introduced a specialized product, Emirates Pharma, and invested heavily in developing European Union good distribution practice, or GDP, certified fit-for-purpose facilities dedicated to pharmaceuticals in its hub in Dubai. The operator has also invested in cool dollies – a mobile temperature-controlled facility – to protect the cargo from temperature fluctuations during transit.
In response to the specific transportation needs of the Covid-19 vaccines, Emirates SkyCargo opened the world's first dedicated airside cargo hub for the vaccine in Dubai in October with more than 4,000 square meters of temperature-controlled GDP-certified dedicated pharma storage area.
But it is not just hardware that needs to be up to the task; there is a human element to consider as well: "As part of our pharma corridors program, we have also worked with ground handlers at airports where we have seen important volumes of pharma transported to enhance the cool chain protection from origin to destination," Julian Sutch, Emirates SkyCargo manager of global pharma sales, told Breakbulk. However, he acknowledged the differences between the Covid-19 vaccines and those vaccines that have been handled by Emirates SkyCargo before. "There are a number of unknowns," he said. "Although we have a fairly good idea of the general transportation requirements for the different vaccines, we do not have a clear idea of the different requirements and the exact nature of the packaging in which the vaccines will be transported." Timeframe is also an issue with demand expected to surge in a very short period of time.
The freezing temperature requirements for the Covid-19 vaccines – as low as minus-70 degrees Celsius for the Pfizer vaccine – present one of the greatest challenges. "Imagine almost 15 million cooling boxes," said DHL, "and the difficulties in physical handling of ultra-deep-frozen shipments, which requires special equipment and processes to avoid injury. This means that a large number of couriers and consignees need to be informed or even trained."
Emirates Partnership
Abu Dhabi is also moving fast to secure its place in the Covid-19 vaccine supply chain. In November, its Department of Health announced a partnership with Etihad Cargo, Abu Dhabi Ports Group, Rafed and SkyCell to handle more than 6 billion vaccine doses in 2021. Dubbed the Hope Consortium, the group aims to deliver a "complete supply chain solution to address vaccine transport, demand planning, sourcing, training, and digital technology infrastructure, and facilitate vaccine availability across the world."
Distribution of the vaccines, which will be stored in Abu Dhabi Ports facilities, will be carried out by Etihad Cargo, the first Middle Eastern carrier to gain International Air Transport Association's Centre of Excellence for Independent Validators (CEIV) certification for pharmaceutical logistics.
Tony Douglas, group CEO of Etihad Aviation Group, said that a dedicated pharmaceutical handling facility to accommodate increased capacity at the group's Abu Dhabi air freight hub was being considered, as well as "additional thermal covers and enhanced capabilities at origin stations based on established pharma trade lanes and specific requests."
Project cargo and breakbulk air freight specialist AirCargoBridge Airlines, part of the Volga-Dnepr Group, took its inaugural Covid-19 vaccine flight in November, flying from Beijing in partnership with UPS/Marken. A total of 6,000 doses of vaccines, weighing almost 400 kilograms, were carried in passive temperature-controlled shipping containers, stacked and loaded into standard AKE air cargo containers and delivered under the 2-8ºC temperature regime – as that vaccine does not require the sub-zero temperatures required for other vaccines.
The vaccines will be used for clinical trials taking place around the world. AirCargoBridge expects that more than half of Covid-19 vaccines will be air freighted with the major manufacturing regions being located in India, China, the UK, U.S. and Europe.
Air Freight Constraints
However, a lack of air freight capacity presents a significant challenge. Peregrine Storrs-Fox, risk management director at specialist cargo insurer TT Club, noted that air freight capacity has been severely reduced since March 2020 due to the sharp reduction in passenger flights.
Transportation also does not end at the airport: "While airfreight is widely expected to support the primary movement of the vaccine, the global distribution requirement will necessitate substantial involvement from surface intermodal actors. The likely multiple transfers will require most careful management of all aspects," Storrs-Fox said.
Much will depend on the speed with which big pharma can scale manufacturing and distribution of multiple vaccines and create geographically dispersed centers of production, noted Agility's Kate. "[This] will determine how much we have to rely on distribution via air freight. Local production is a big piece of the puzzle. It brings scale and eliminates many of the supply chain challenges." Vaccine developers signing deals in key markets with contract manufacturers could eliminate the need for air bridges.
Air freight rates have spiked due to the acute shortage of dedicated air freight capacity combined with the loss of much of the passenger aircraft belly hold capacity. Could sea freight capacity fill the gap?
"While not a traditional mode of choice for such pharmaceutical goods, the nature of this particular supply chain and the fact that there will inevitably be various production batches, suggests that sea freight could be a good fit," Storrs-Fox said.
While multipurpose vessel operators may not benefit from seaborne cold chain vaccine distribution, container lines are already preparing for that eventuality, which will take the pressure off the already stretched breakbulk air cargo fleet. Maersk, for example, has signed an agreement with COVAXX – developer of a multitope peptide-based vaccine for Covid-19 – to establish integrated logistics to enable efficient worldwide distribution of its vaccine. The aim is to distribute up to 1 billion doses of the COVAXX synthetic vaccine worldwide in 2021.
The agreement provides for end-to-end supply chain management, packing and shipping, via air or ocean, ground transportation, warehouse storage and distribution to facilities needed to deliver COVAXX's vaccine candidate UB-612 around the world.
An area where multipurpose vessels will be needed is for the movement of industrial refrigeration units to meet the mass national cold storage requirements for Covid-19 vaccines.
Overall, the scale of the logistical challenge – by air, sea or road – should not be underestimated, Storrs-Fox concludes. "Many supply chains during the pandemic period have suffered stress and disruption, and there are regular reports of port congestion or lack of reefer point capacity. While some countries are considering local manufacture and distribution, the logistics requirements are expected to stretch capacity and capability."
With 2021 threatening more of the downbeat same without roll-out of the vaccine, there is much riding on the success of the supply chain in the year ahead.
Carly Fields has reported on the shipping industry for the past 20-plus years, covering bunkers and broking and much in between.
Image credit: Emirates SkyCargo