---
May 07 | 2020
Covid-19 Tests Breakbulk Industry's Disaster Preparedness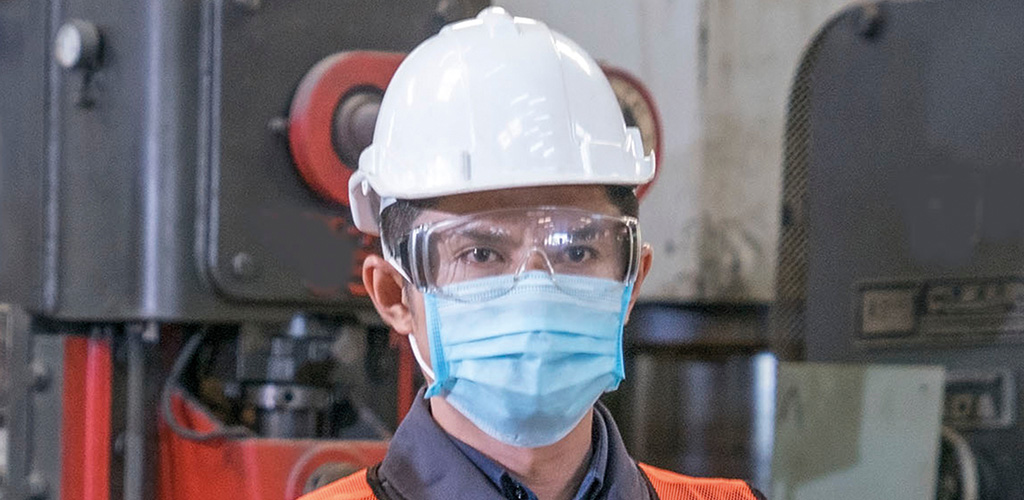 By Helen Campbell

BREAKBULK MAGAZINE ISSUE 3 / 2020 – LOGISTICS PERSPECTIVE –
The world thought it had already experienced its fair share of crises; from hurricanes to earthquakes, volcanic ash clouds to tsunamis, floods to typhoons, civil wars to landslides, famines to plagues, the Australian fires to extremes of temperature in either direction. The world has seen them all.
While the Covid-19 outbreak does share characteristics with other disasters, natural and manmade, the current crisis facing the whole world is like nothing ever faced before. The world has experienced epidemics, and even pandemics, but nothing on the scale of the novel coronavirus. Not only is it global, it is a medical and economic emergency all rolled into one. And it carries huge logistical challenges, whether the need is to move people or cargo.
Most, but not all, types of disaster events have the potential to lead to fatalities, serious injury, urgent need for medical assistance and equipment, difficulties in accessing food and water, and displaced persons. In all crises, moving urgent supplies around to where they need to be becomes even more of a challenge. In addition to the human first responders and urgent food and medical supplies, governments and non-governmental organizations, or NGOs, could need to move large cargoes such as robotic search-and-rescue devices, components for emergency shelters and field hospitals, generators, emergency light towers, earth and debris-moving equipment such as bulldozers and tractors, other vehicles such as mobile health clinics, and building materials.
The experience and knowledge of breakbulk carriers comes into its own, but carriers will rarely find themselves acting on their own. Effective partnerships between governments, the private sector and NGOs are vital in disaster relief. In developing nations, where national governments are much more likely to need to call for international assistance, large-scale response will be deployed by the UN.
Four global logistics and transportation companies – UPS, A.P. Moller - Maersk, Agility and DP World – make up the Logistics Emergency Team, or LET, which supports the logistics cluster led by the United National World Food Program. This provides emergency responses to large-scale humanitarian crises. In 2018, LET expanded its scope from covering only emergencies brought on by natural disasters to also cover human-incurred disasters, often related to food insecurity, epidemics and conflicts.
Setting the Stage
The first few days in any disaster are crucial, and the need for speed brings collaboration right into the spotlight.
"We have responded to just about every major crisis on the face of the earth, from the 2010 Haiti Earthquake up to the 2020 Covid-19 response, supporting about 100 different NGOs to help them bring aid and aid workers to the disaster site," said Michael Rettig, founder of LIFT, a not-for-profit logistics provider that helps NGOs respond to disasters. "At the outset, we are usually helping to move first response groups, water-making and medical capabilities and, as disasters wear on, we help manage the supply chains of other resources once the needs assessments are completed.
"Disasters mean people need shelter, people need food, people need medical aid, so to get these things in to where they are needed, we use general aviation, heavy-lift air and a range of vessels including the usual customary container vessels, plus barges, yachts, skiffs [small one- or two-person rowing boats], flat-bottomed johnboats and other unconventional maritime assets like offshore supply and multipurpose vessels."
LIFT aims to link responders with access to general aviation aircraft, heavy jets, helicopters, small and large vessels and ground transportation to bring people and cargo to disaster sites. The group partners with truckers, ship operators and airlines to help aid organizations move urgent goods to where they need to go. The organization has helped to coordinate the movement of outsize cargoes to assist in a number of relief efforts, with the September 2019 Bahamas storms a recent example.
"Breakbulk is especially pertinent when it comes to the Bahamas and the ongoing recovery and rebuilding efforts there," Rettig said. "Disasters mean there is often a lot of debris management and removal equipment, as well as equipment needed to re-energize and re-electrify communities that have been affected by an earthquake or whatever the disaster might be. This means things like earth movers, chippers, shredders and curtain burners which are used to safely burn onsite debris cleared from building collapse or similar.
"There was also a lot of salvage work in the aftermath of the storms in the Abacos Islands, for example, so crane barges needed to come in to pick up sunken vessels, bring them on deck and take them away. We have also moved mobile solar power units on a yacht in support of a hospital and two medical clinics on Grand Bahama Island a couple of days after the storm hit, flying three or four of them to medical clinics in the Abacos." As there is generally not enough time to put critical life-saving items into containers, LIFT uses whatever mode of transportation is available. Often it is shallow draft.
Importance of Supply Chains
A similar organization, Humanitarian Logistics Association, works from a base in the UK, and was established to foster collaboration between individual logisticians working in humanitarian relief globally.
"The area of logistics has been typically undervalued as a function in delivering humanitarian aid," said George Fenton, its founder and CEO. "The situation is getting a bit better now, but the aid sector is some years behind the private sector in recognizing the strategic importance of managing supply chains effectively."
What is increasingly needed, Fenton added, is a much more connected means to prepare for disasters and crises and to prepare for and respond to ways in which the private sector at a local level can be better positioned to assist in the first wave. "There is a growing interest from the private sector, which is encouraging, and a need for stronger engagement. And we are aiming to increase the number of private sector members because, particularly at the local level, they are key first responders and therefore we feel it is important that they are better aware of the need to understand how to operate in complex environments."
For air transportation in particular, Covid-19 has shaken "normal" like never before, and made finding and brokering cargo space more challenging and more expensive, with many airports operationally restricted.
In many cases, individual countries have put in place their own rules on who may come in or out, based on nationalities and/or travel origin. This of course has an impact on the rules governing flying crews including on stipulations on rest periods between flights, whether a country will allow them entry for the purpose of an overnighter, whether they have to be subject to a quarantine period and so on. All of these factors are increasing the challenge and pushing prices up.
"I've been here 17 years and have worked in aviation for 21 years, responding to tsunamis, earthquakes, fires, hurricanes, you name it," said Dan Morgan-Evans, group director cargo at Air Charter Service. "I never thought anything could beat the ash cloud in term of affecting air capacity, but Covid-19 is impacting everything."
About 60 percent to 70 percent of all air freight travels in the belly of a passenger airliner, and up to 80 percent of all transatlantic freight is belly hold. With flights stopped in and out of China, President Trump's announcement that Schengen Area passengers were banned from flying to the U.S. and all the world's passenger airlines, or at least vast portions of their fleet, largely grounded, belly freight capacity disappeared, Morgan-Evans said.
Facilitating the Information Flow
Whether moving by air, sea, road or rail, all parties agree that the most important thing in any crisis is information and the speed and flow of that information. The initial "shipments" out to disaster sites are very often human resources: search-and-rescue teams and medics, with any of their vital equipment that they need to get started on the ground. After that, it is whatever the aid agencies and governments determine the needs are to deliver a full response and relief effort.
"Our key goal is to organize pretty quickly," Morgan-Evans said. "We find out aircraft availability, airport capability, what infrastructure there is on the ground, whether we can get someone there immediately to orchestrate things on the ground. We need to find out what equipment is there, whether we can offload, whether we can onload, and we need to find all this out as quickly as possible. We furnish the aid agencies with as much information as we can about the cargo planes themselves, then we have to find out about permits, flyover authorizations, whether crew can stay over, how long we can park the aircraft for, or whether it has to fly back out again."
At the height of China's lockdown, very little was being manufactured in the country in any case, so freight capacity for exports wasn't an issue. But this has changed since the restart of China's industrial production.
"Now China is back up to 80 percent of its normal production levels, but the capacity isn't there as people are still restricted on their movements," Morgan-Evans said. "Freight rates are getting higher, so it becomes economic to fly planes without passengers. No one wants to see airlines go bust, and they do need cashflow. At the same time, with Europe on lockdown, there is a chance we won't need the cargo coming in."
A characteristic of the current Covid-19 crisis is that it had, at the time of writing, not resulted in large-scale displacement of persons – ironically, owing to the widespread lockdowns the outcome is quite the opposite. At least this is the case in developed nations; authorities fear that when the virus hits in Africa, people will find it almost impossible to distance themselves from each other to try to slow the spread. It is more likely that large numbers of people will feel forced to move to other areas, as has already happened in India; mass movement may increase the need for supply and shipment of shelters, field hospital components, emergency power generation and water and sanitation provision.
As the current global crisis continues to evolve, breakbulk carriers should stand by.
Helen Campbell is a freelance journalist based in London who has specialized in energy, environment, sustainability and technology for more than 20 years.